Don't be left in the Dark – Rely on Generators
Click here to download our PDF Generator Maintenance Brochure
In the unfortunate event that your power goes out, you are at the mercy of your power company—unless you have a generator. A generator is a back-up source of energy for your home. Generators use natural gas or propane to create electricity for your home. If your household uses natural gas or propane for heat or any other appliances, you are already set for generator installation.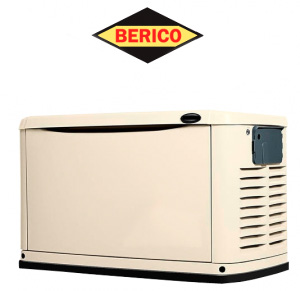 How a Generator Works
If your electricity goes out, an automatic generator will sense that and start up immediately—even if you are not home. The generator provides electricity for your home until the power company restores it. No spoiled food, no frozen pipes, no waiting in the cold or heat, no darkness. It's as if nothing ever went wrong.
Installation of Top Brands of Generators
If the idea of a generator sounds good to you, we can install one of our top brand generators in your home. For generator install in Greensboro, we partner with Honeywell and Generac brands to ensure that you will have reliable back-up power for your home. Our experienced technicians can correctly install a generator in your home or small commercial building that will provide back-up power you can count on.
Unexpected Usage Protection Plan
There may be times throughout a given year that your generator turns on for an extended period of time due to a power outage. You want to be prepared. Call Berico for your protection and maintenance plan to ensure you are ready for the worst.
Benefits of a Protection Plan
It is critical that an annual tune-up is conducted on your generator to help prepare for power outages.
Our Generator protection plans have been designed with you in mind:
Help prevent costly repairs
Extend the lifetime of your generator
Provide you with peace of mind
Insure operation when your power goes out
Benefits Include
Annual Tune-up (see checklist)
20% Off Repairs
20% Off Diagnostics
Priority Service
$50 Bonus Bucks each renewal
Auto Renewing so you don't worry – (We will call/email you to schedule)
100% Satisfaction Guaranteed
If for any reason you are not satisfied with a repair, we will return to fix it and will not leave until you are completely satisfied.
Protection Plan Coverage
Our plan includes an annual maintenance visit. Secondary visit may be added upon request at prevailing rates. Comprehensive service includes:
Inspect fuel lines & connections
Inspect flexible fuel lines
Inspect oil level
Replace oil
Replace oil filter
Inspect/clean enclosure louvers
Inspect for vibration, noise, leakage, temperature
Inspect/clean battery, remove corrosion, ensure battery dryness
Clean and tighten battery terminals
Check battery charge state
Inspect/replace (if necessary) electrolyte level
Inspect battery cable, remove corrosions, clean and tighten cable
Inspect air cleaner
Inspect spark plug(s)
Apply corrosion inhibiting spray to engine parts
Inspect electrical connection box, including tightening terminals, checking for proper operation and checking control wiring
Inspect entire electrical system
Start & test generator operation
If necessary on liquid cooled generators:
Check generator cooling system, hoses and belts
Inspect generator coolant level and top off
Distributor cap and rotor check
Plugs, plug coils, and plug wires checked
PLEASE NOTE:
Additional maintenance or repairs discovered on service visits will be subject to standard rates with a 20% discount.
In The Know With Berico: Identify Whether Your System Has Load Management Control
In the Know with Berico: Troubleshoot Digital Thermostats
In the Know with Berico: Know Your Cutoff Valve
In the Know with Berico: Always Check the Breaker First