Propane & Delivery Services

At Berico, we are committed to providing our propane customers with first class service and delivery to both families and businesses in the Greensboro, High Point, Burlington, Reidsville, and Eden areas. We look to differentiate our propane services through the following: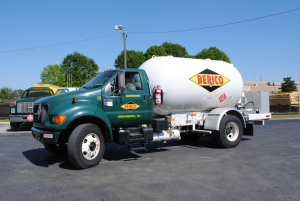 Locally operated Propane and Fuel Oil Delivery 24/7
Long Term Savings (our customers save on average $150/year)
FREE propane tank swap outs for new customers (* Some underground tanks may be subject to an installation fee.)
A Service, Tune-up & Repair Department 24/7
Referral credits
Service Plans with Propane Discount
FREE estimates on new Propane Heating Furnaces and Air Conditioners
New Customers
If you're interested in Berico providing your propane don't hesitate to contact us for quick and easy information on how to get started. Due to recent regulations, any existing propane tanks are likely owned by your current propane supplier and we can help you through the FREE and easy change-over process. Furthermore, to reward our loyal customers, we offer free perks like Bonus Bucks and referral credits.
Berico is leading propane suppliers for Greensboro, High Point, Burlington, Eden and the surrounding areas. We believe that our customers fuel our future, which is why we put you first. Don't forget, we also offer free energy evaluations on all your heating units and air conditioners. If you'd like to make the FREE and easy switch to Berico call us today! Contact us
Have An Emergency?
At Berico we understand that emergencies happen, which is why we offer emergency services 24/7. Whether your propane tank runs out or you experience a heating or air conditioning breakdown, we'll do everything in our power to ensure you are comfortable. Regardless of the hour, call on Berico to restore your heating or cooling system!
Need a Temporary Propane or Fuel Tank?
Berico understand that you may only need a propane tank for a few weeks or months, which is why we lease out our propane and fuel oil tanks. We offer excellent prices and delivery for local construction companies, small businesses and commercial dealers. We'll happily send one of our experienced technicians to take at look at your desired tank location.
Safety First
We work hard to ensure the safety of you and your family, which is why we offer propane service plans and inspections. For your convenience, we automatically do this during installation and recommend when to schedule your tune-up. However, if you can't remember your last inspection or tune-up, feel free to contact us and we keep your information. We'll gladly send a technician out to ensure that you and your family are safe!
The Facts about Propane!
Propane is a safe, economical and clean energy – both inside and out. There are many advantages of propane heating including:
Cleanliness – Propane is basically pure energy, with no odors or residue. It's not considered a greenhouse gas, and is in fact listed as approved clean fuel by the United States government.
Reliability – Whether there are major environmental disaster or the power goes out, propane is a great alternative heating fuel.
Affordability – Propane is quite affordable and works harder than traditional energies. It also burns hotter than electric heat, meaning it takes less to power appliances and heat the home – leading to even more savings.
Safety – Propane is a safe, clean-burning and non-toxic heating source.
Berico is fully equipped to install or provide any type of fuel tank your home or office may need, everything from propane to oil and even gasoline. Our technicians are ready to install any size tank – both above and below ground.
In the Know with Berico: Troubleshoot Digital Thermostats
In the Know with Berico: Before You
Call
In the Know with Berico: Always Check the Breaker First
In The Know With Berico: Check For Air Leaks
Ten Surprising Things About Propane You Might Not Have Known
Propane, often referred to as liquefied petroleum gas (LPG), is a versatile fuel that plays a significant role in our daily lives. While many are familiar with its use in backyard grills and home heating, there's more to propane than meets the eye.  Let's delve into ten surprising things about propane that might just leave you intrigued.

1. Propane Is a Byproduct of Natural Gas and Oil Refining
Ever wonder where propane comes from? It's a byproduct of both natural gas processing and petroleum refining. When these fossil fuels are processed, propane is separated and stored as LPG. This process ensures that propane is readily available for various applications.
2. Propane Is Non-Toxic and Colorless
Propane is non-toxic and doesn't emit harmful fumes when burned. In its natural state, it's odorless, but an odorant called ethyl mercaptan is added to give it a distinctive smell for safety reasons. This odor helps detect leaks, ensuring prompt action can be taken to prevent accidents. It's often referred to as a "rotten egg smell."

3. Propane Is Highly Efficient
Propane is prized for its high energy efficiency. When it burns, it produces more energy compared to many other fuels, making it an excellent choice for heating and powering appliances like water heaters and stoves.

4. It's a Renewable Energy Source
Propane is considered a renewable energy source when it's produced from renewable feedstocks like biomass. This sustainable approach to propane production reduces its carbon footprint and contributes to a greener energy landscape.
5. Propane Is Portable and Versatile
One of propane's standout features is its portability. It can be stored and transported easily in tanks, making it a popular choice for outdoor activities like camping and grilling. It's also widely used in forklifts, buses, and even as an alternative fuel for vehicles.
6. Propane Is Environmentally Friendly
Compared to many other fossil fuels, propane is considered environmentally friendly. It produces fewer greenhouse gas emissions, particulate matter, and carbon monoxide when burned, contributing to cleaner air and a reduced environmental impact.
7. It's Used in Agriculture
Propane plays a crucial role in agriculture. Farmers use it for various applications, including crop drying, pest control, and running irrigation pumps. Its versatility and reliability make it a valuable resource for modern farming.
8. Propane Powers Backup Generators
Propane-fueled backup generators provide a reliable source of power during outages. They're commonly used in homes, businesses, and critical facilities like hospitals to ensure uninterrupted electricity supply during emergencies.
9. It's a Common Refrigerant
Propane, specifically known as R-290, is gaining popularity as a refrigerant in commercial and residential refrigeration systems. It's an eco-friendly alternative to traditional refrigerants with high global warming potential.
10. Propane Is Used in Flame Effects
Propane is often used in live performances, theater productions, and special events to create dramatic flame effects. Its clean-burning properties and instant ignition make it a safe choice for creating visually stunning fire displays.
As you can see, Propane is much more than just a fuel for grilling or home heating. Its versatility, efficiency, and eco-friendliness make it a valuable resource in various industries and applications. Whether you're powering your RV, cooking a delicious meal, or ensuring your home stays warm during the winter, propane is there to provide reliable energy in a multitude of surprising ways.