Getting an HVAC Filter Delivered to Your Home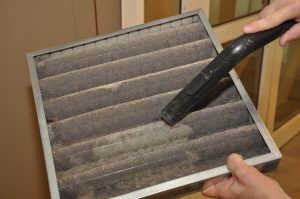 Berico understands that your HVAC system plays a crucial role in keeping your home comfortable, especially during extreme weather conditions by keeping it at the right temperature. But almost as importantly, it keeps your indoor air quality fresh and healthy for you and your family. However, to maintain the system's efficiency, it's crucial to change the air filters regularly and with the right HVAC filter.
This is why Berico has partnered with FilterFetch.com to make sure you never have to worry about trying to remember to change and buy the filters that are right for your HVAC system. FilterFetch.com is a Berico partner that delivers professional-grade filters directly to your doorstep.
Be sure to use our code  C4Q2  for special pricing.
Regular filter changes are critical for the proper functioning of your HVAC system. Over time, air filters accumulate dirt, dust, and other particles, making it not only harder for your HVAC system to control the temperature but also making them ineffective in filtering the air. When this happens, the system has to work harder to circulate the air, which leads to increased energy consumption and higher utility bills. Furthermore, dirty air filters can negatively affect indoor air quality, leading to respiratory issues and other health problems.
By using FilterFetch.com's services, homeowners can enjoy fast and free filter delivery, which means they never have to worry about running out of filters or struggling to find the right one. Customers can also receive automatic filter change reminder emails, which means that you'll never forget to change your filters, leading to better indoor air quality and HVAC system efficiency. The reminder emails come at regular intervals, based on your filter change frequency, so you can rest assured that your HVAC system is always running optimally.
In addition to filter delivery and reminder emails, FilterFetch.com in conjunction with Berico provides customers with friendly toll-free support from filter experts. Homeowners can call and receive assistance in selecting the right filter for their HVAC system, getting tips on filter replacement, and getting answers to any other filter-related questions. This service ensures that homeowners have a hassle-free experience and can enjoy the benefits of clean indoor air and an efficiently functioning HVAC system.
It's important to note that changing your air filter regularly is not a complicated or time-consuming process. With FilterFetch.com, you don't have to spend time and energy shopping for the right filter or wondering when it's time to change the filter. Instead, you can relax and leave the filter management to the experts. As noted earlier, regularly changing your AC filter and furnace filters can help extend the life of your HVAC system and save on energy bills, and it requires you to just sign-up one time and leave the rest to the pros.
Using FilterFetch.com, you can ensure that you have access to the right filters at the right time, receive timely reminders for filter replacements, and get expert support when you need it. So, sign up today and enjoy the peace of mind that comes with knowing your HVAC system is running efficiently, and your indoor air quality is clean and healthy.
Be sure to use our code  C4Q2  for special pricing.
In the Know with Berico: Check Your Air Filters
In the Know with Berico: Clean Your Vents and Returns
In the Know with Berico: Don't Block Vents
In the know with Berico: Do Not Block Returns