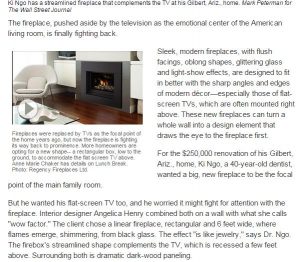 Want to add beauty and warmth to your home with a fireplace that looks elegant and is easy to light? A gas fireplace provides ambiance and style to your home, along with a natural flame look. Gas fireplaces have improved greatly over the past 25 years, and are a top choice among homeowners, according to the Wall Street Journal:
"Many insist nothing beats the flicker and crackle of a wood fire. But the gas fireplace, which entered the market about 25 years ago, has become mainstream by offering the ease of push-button ignition and less mess. In its early years, the gas flame often looked "too blue," says Mike Pennington, vice president of engineering and product development at Lennox Hearth Products, a unit of Innovative Hearth Products. Today, technology has evolved to create a gas fire that is practically indistinguishable from a wood-burning fire. "Dancing, billowy, yellow flames are typically the target," he says.
Today, 69% of fireplaces sold are gas-fueled and of those, most are "direct vented," not requiring a chimney. Vents can be installed through almost any exterior wall, so that even multi-unit apartment and condominium buildings can have fireplaces. Direct-vent fireplaces are sealed combustion systems: Air from the outside—rather than inside—fuels the fire, and byproducts are vented back outside. The sealed combustion process requires a glass cover on the front of the firebox, to provide a barrier that can keep carbon monoxide from entering the room."
An inviting fireplace is a pleasant, central focal point for an entertaining room, such as a living room or family room, and it provides value to your home. In Greensboro and Burlington, realistic looking gas logs are the main accessory needed to create the perfect look for your gas fireplace. With a push of a button or the flip of a switch, and instant warm fire will appear, making the room cozy and sophisticated. The WSJ explains the benefits of having a fireplace in your home:
"Whether powered by a remote control or twigs and a match, a fireplace creates a zone not only for warming cold hands and feet but also for cuddling or celebrating in the primal glow. While no longer an essential provider of light and heat, "it's still conceptually the center of the home," says Seattle architect Betty R. Torrell, who has written about the hearth's history in architecture. "It dominates the room that it's in; chairs are organized around it, it's the focal point." The beauty of fire remains "emotionally sustaining," she adds, "even if it's not physically sustaining anymore."
With a huge variety of vented and vent-less gas logs available at our gas log showroom, you can select the perfect set of gas logs for your home. The elegance and design of a gas fireplace will bring beauty to your home for many years, with little maintenance required. At Berico, our experienced technicians will inspect your vent duct to make sure it is safe, and provide a comprehensive installation of the gas log kit, compliant with local regulations and ordinances. We even include a demonstration of how to use your new kit, along with an overview of best practices regarding your natural gas or propane heating. Call us to find out about the variety of sizes and designs that we have available for your new gas log kit: (336) 273-8663.
(Source: Homes: Sleeker Designs Bring Modern Cool To The Fireplace, www.online.wsj.com, October 31, 2012) http://online.wsj.com/news/articles/SB10001424052970204840504578086822060244366?mg=reno64-wsj
https://www.berico.com/wp-content/uploads/2023/05/berico-logo-2023-2.png
0
0
berico_admin
https://www.berico.com/wp-content/uploads/2023/05/berico-logo-2023-2.png
berico_admin
2014-11-02 06:34:54
2023-01-24 06:07:13
Bring Beauty and Comfort to Your Home with a Gas Fireplace