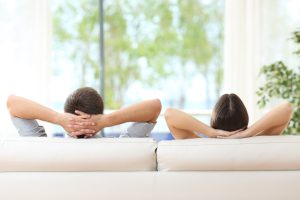 Is your air conditioning system ready for another hot summer? It's been sitting unused for a few months now, collecting dust while your furnace has done all the work. Unfortunately this is the perfect recipe for an AC malfunction. When temperatures rise you'll turn it on, hoping for cool air, but what if something goes wrong? Don't get caught unprepared; schedule HVAC maintenance in Eden before the weather gets hot. Here's why.
Summer is a Busy Season for HVAC Services
If you wait until the first hot day to test your AC, you'll be one of thousands who are doing the same thing. And you will likely not be the only one who discovers that their AC is not working. It could take a while to get an appointment when everyone else is calling too. If you had called back in the early spring or late winter to schedule HVAC maintenance in Eden, you could have avoided a hot, sticky situation.
High Heat Index Creates Unhealthy Conditions Fast
When your AC goes out on an extremely hot day, your home can become unlivable in a matter of hours. If you're waiting around for repair service inside a sweltering house, not only will you be very uncomfortable, but you might even be risking your health. This unpleasant situation could have been avoided if HVAC maintenance had been done months or even weeks beforehand.
Avoid After Hours and Emergency Fees
Why is it that unfortunate events never seem to happen at a convenient time? If your AC happens to break down during the night or on the weekend, you could be charged additional fees to have a technician come out to your home after normal business hours. Preventive maintenance could have caught this potential problem before it occurred, saving you money and stress.
Can I Perform HVAC Maintenance Myself?
There are some aspects of HVAC maintenance that can be done by the homeowner, such as changing filters, clearing off the outdoor unit, and checking the thermostat. But a trained HVAC professional can handle the technical aspects of maintenance that an untrained person may not know how to do. HVAC technicians are trained to notice signs of wear and loose parts that the untrained eye wouldn't notice. There are even adjustments that may need to be made to the electrical components that could be potentially dangerous for someone who doesn't know what they are doing. For your own safety and for better results, hire professional HVAC maintenance in Eden.
Trust Your HVAC System to the Experts at Carolina Fuels
If you want to make sure your HVAC system is ready for the season ahead and avoid any unfortunate surprises, make an appointment for maintenance with Carolina Fuels. Knowledgeable, trained technicians will thoroughly inspect and clean your system as well as make any necessary adjustments. If there is anything that needs attention they will let you know so that it can be repaired or replaced if necessary. Then you can rest easy in your comfortably cool home for the duration of the summer and into the fall without worrying about your HVAC system.
Call (336) 623-9741 today to schedule HVAC maintenance in Eden or request service.
https://www.berico.com/wp-content/uploads/2023/05/berico-logo-2023-2.png
0
0
Team Berico
https://www.berico.com/wp-content/uploads/2023/05/berico-logo-2023-2.png
Team Berico
2020-04-26 16:37:48
2023-01-24 05:52:25
Don't Get Caught Unprepared: HVAC Maintenance