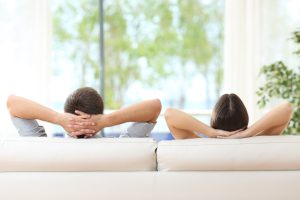 As a new homeowner, you will want to be proactive to make sure that your HVAC system is kept up and running as efficiently as possible.   Failure to do so will likely result in higher costs for HVAC repair in Burlington or worse, result in a failure of a system that might otherwise have given you years and years of great service.
A few simple steps will help you to take care of your HVAC unit so you can keep cool in the summer and warm in the winter.  Some of the tips a new homeowner should keep in mind for your HVAC system include:
Check the Filters
Replacing your filters can help the unit run efficiently while keeping the airflow in your home clean. There are a number of factors to consider when determining when to change the filters including:
Whether you have pets in the home.
How many people live in the home.
The type of filter you use
Your proximity to a busy road
Your filter will likely need to be changed a minimum of two times a year but quarterly would be even better.
Check the Outdoor Unit
Your air conditioner can keep you nice and cool in the summer, but if it obstructed or is not draining well, you may have an urgent need for a Burlington HVAC company.  Your goal is to give the AC unit at least two feet of space from anything near it and look for any debris, dirt or growth that may be inhibiting the airflow. Consider scheduling an AC checkup if you are uncertain about the condition of the air conditioner and the furnace.
Check All Drains
While you are looking at your air conditioner, take the time to look at the drain line and make sure it drains properly. Your AC system will struggle to keep the home cool in the summer if the drain is clogged up and it is a simple fix that you can likely handle.
Do a Ductwork Inspection
It is a smart idea to have your ductwork inspected once a year. If anyone in the home has asthma or allergies, a thorough duct cleaning can help everyone to breathe better and will help keep the dirt and allergens out of the system. This also helps your HVAC system work more efficiently.
Have Routine Maintenance
Both your air conditioner and furnace need to have routine maintenance. Having a routine checkup twice a year will help to keep those surprise bills for "HVAC repair" in Burlington kept to a minimum. Choose an HVAC professional who will tune-up and clean the system and can take a look at everything and provide recommendations on which parts need to be replaced or repaired before the entire system goes down and you are in need of HVAC replacement.
As a new homeowner, it is hard to know what steps it takes to maintain your heating and cooling system and keep it going for years to come. The team at Berico is committed to helping you maintain your system and keep it in the best possible condition. Whether you have a question or would like a repair done, the Berico team is here to help. Contact Berico today to schedule your HVAC repair in Burlington or to get onboard with a regular HVAC maintenance program.  To learn more about the Berico Maintenance plans click here:  https://www.berico.com/hvac-maintenance/
https://www.berico.com/wp-content/uploads/2023/05/berico-logo-2023-2.png
0
0
Team Berico
https://www.berico.com/wp-content/uploads/2023/05/berico-logo-2023-2.png
Team Berico
2022-05-23 17:20:08
2023-01-24 05:47:02
HVAC Tips for New Homeowners