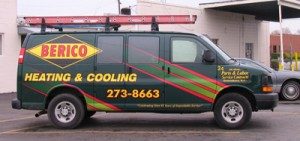 During the warmer months of the year, when the sun is shining and you spend a lot of time outdoors, your heating system is probably the last thing on your mind. When the cold and dreary parts of the year are months away, why should you spend time thinking about your furnace? The truth is, well before the temperature drops, you should take some time to consider your heating system. You don't want to ignore it and then be in for a rude awakening one very chilly morning.
The experts at Berico Heating and Air Conditioning will keep your furnace running at optimal efficiency throughout the year. Even if you think your furnace is fine, we'll come out and give it a thorough inspection to make sure everything's in working order. An annual inspection and tune-up of your furnace can ensure that it will keep you warm throughout the winter and last for many years to come. In addition, a yearly furnace checkup will:
Guarantee proper airflow – The skilled professionals at Berico will make sure your heating system is receiving and providing the right airflow. Limited airflow will cause your heating bills to rise and can also put strain on your system.
Keep your family safe – To heat your home, a furnace burns fuels, and the process of combustion has to be exact. Even a minor issue can lead to a gas leak.
Improve energy efficiency – An annual inspection of your Burlington, NC heating system will also include a cleaning. Over time, your furnace collects dust and dirt, which can take a toll on your bills. A good cleaning will save both time and money.
Maintain the manufacturer's warranty – Many manufacturers require a yearly maintenance, and if it isn't done, the warranty can become null and void.
Decrease the need for repairs – Often heating system issues can be prevented with regular maintenance.
At Berico Heating and Air Conditioning, we offer a variety of different furnace maintenance programs for residents and businesses in the Greensboro, High Point, Burlington and Eden area. So before you find yourself in the middle of winter with a bum furnace, give us a call 336-273-8663.
https://www.berico.com/wp-content/uploads/2023/05/berico-logo-2023-2.png
0
0
berico_admin
https://www.berico.com/wp-content/uploads/2023/05/berico-logo-2023-2.png
berico_admin
2014-10-15 06:30:01
2023-01-24 06:07:14
The Importance of Furnace Maintenance in Burlington