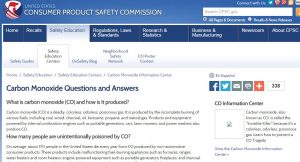 It's deadly, without a smell, taste or color. And it could become a huge problem if your furnace is not properly maintained. Carbon monoxide can become trapped in a room or entire house, leading to a very dangerous situation. Found in a variety of sources, such as gas stoves and gas water heaters, leaking furnaces and chimneys, this gas can cause huge problems if the level becomes high. Similar to flu symptoms, thousands of people who are poisoned from carbon monoxide annually do not realize the cause of their illness right away, leading to greater danger.
Hotels in North Carolina require carbon monoxide detectors after three deaths occurred as a result of high carbon monoxide levels inside of a hotel room in NC. How can this type of poisoning be prevented? The Consumer Product Safety Commission has preventative steps that will help you stay safe, and avoid carbon monoxide poisoning:
Make sure appliances are installed and operated according to the manufacturer's instructions and local building codes. Most appliances should be installed by qualified professionals. Have the heating system professionally inspected and serviced annually to ensure proper operation. The inspector should also check chimneys and flues for blockages, corrosion, partial and complete disconnections, and loose connections.
Never service fuel-burning appliances without proper knowledge, skill and tools. Always refer to the owner's manual when performing minor adjustments or servicing fuel-burning equipment.
Never operate a portable generator or any other gasoline engine-powered tool either in or near an enclosed space such as a garage, house, or other building. Even with open doors and windows, these spaces can trap CO and allow it to quickly build to lethal levels.
Install a CO alarm that meets the requirements of the current UL 2034 safety standard. A CO alarm can provide some added protection, but it is no substitute for proper use and upkeep of appliances that can produce CO. Install a CO alarm in the hallway near every separate sleeping area of the home. Make sure the alarm cannot be covered up by furniture or draperies.
Never use portable fuel-burning camping equipment inside a home, garage, vehicle or tent unless it is specifically designed for use in an enclosed space and provides instructions for safe use in an enclosed area.
Never burn charcoal inside a home, garage, vehicle, or tent.
Never leave a car running in an attached garage, even with the garage door open.
Never use gas appliances such as ranges, ovens, or clothes dryers to heat your home.
Never operate unvented fuel-burning appliances in any room where people are sleeping.
Do not cover the bottom of natural gas or propane ovens with aluminum foil. Doing so blocks the combustion air flow through the appliance and can produce CO.
During home renovations, ensure that appliance vents and chimneys are not blocked by tarps or debris. Make sure appliances are in proper working order when renovations are complete.
Have your furnace in the Greensboro, High Point and Burlington, NC areas inspected and maintained by a professional. At Berico Fuels, we recommend routine HVAC inspections to eliminate the possibility of carbon monoxide poisoning from old furnaces that are not operating properly. Leaky and older furnaces are potential problems that need to be addressed at an inspection. Your heating system repair in Greensboro, NC will be done by a certified and qualified technician, who has the experience and knowledge to locate existing problems and potential future malfunctions with your furnace. Determine your risks now, before the weather turns cold. At Berico Fuels, our Greensboro HVAC systems specialists have the expertise to prevent your heating system from having problems this winter. Stay safe, and stay warm this winter season.
(Source: Carbon Monoxide Questions and Answers, http://www.cpsc.gov/, 2014)
http://www.cpsc.gov/en/Safety-Education/Safety-Education-Centers/Carbon-Monoxide-Information-Center/Carbon-Monoxide-Questions-and-Answers-/
https://www.berico.com/wp-content/uploads/2023/05/berico-logo-2023-2.png
0
0
berico_admin
https://www.berico.com/wp-content/uploads/2023/05/berico-logo-2023-2.png
berico_admin
2014-11-17 06:53:34
2023-01-24 06:07:12
Reduce Your Risk of Carbon Monoxide Poisoning in Greensboro, High Point and Burlington