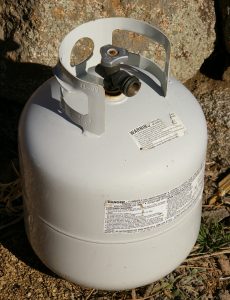 When it comes to energy sources for home and business, it may surprise you to hear that electricity is not your only option. If that doesn't surprise you, then the sheer magnitude of advantages propane has over electricity just might.
The top factors to consider when looking into propane in Reidsville are efficiency, cost, and availability. You may also be concerned about environmental impact. Taking all of this into consideration, propane comes out on top.
A High-Efficiency Energy Source
Propane is known for its energy efficiency. It burns extremely hot, which is what makes it an excellent source of heat and energy. It keeps homes cozy in the winter because it creates a radiant, residual heat that lasts. It heats water faster, allowing your hot water supply to recover almost immediately. Cooking with propane is not only more efficient than electricity, but it is preferred by culinary experts as it is known to cook food faster and more evenly.
Cost of Propane is Reasonable and Steady
While it may seem that propane is comparable to the cost of other energy sources, you'll get more for your money. The efficiency of propane allows it to go a long way, meaning you'll save money on energy costs in the long run. Propane prices also tend to remain steady as it is processed almost entirely in the US and does not rely on overseas oil prices.
Propane is Readily Available to All Areas
A major advantage of propane is its availability. Wherever you are, you can receive delivery of propane, Reidsville and the surrounding area notwithstanding. No matter how rural your home, you'll always have access to propane. And when the power goes out and the power company takes their time getting to the rural areas, you'll still have propane to keep you warm and allow you to get things done.
Environmentally Friendly Energy
One of the biggest misconceptions about electricity is that it is better for the environment than other energy sources. The reality is that the majority of electricity produced in the eastern US is created by burning coal, which pollutes the air and surrounding environment with coal ash. Propane, on the other hand, is a by-product of oil that is made clean and burns clean. Propane emissions are well within the regulations set the EPA. It is non-toxic and will not contaminate soil or groundwater in the case of a leak.
Propane is a Versatile Fuel
Propane can do more than simply heat your home. Your water heater, clothes dryer, range, grill, pool heater, hot tub, generator, and more can all run on propane. While propane appliances may cost more at purchase, the return on investment more than pays for the difference. You'll continue to save money day in and day out as your appliances operate more efficiently for, most likely, a longer overall time period.
Carolina Fuels, Top Supplier of Propane in Reidsville
If you're ready to experience the benefits of propane for household or commercial use, Carolina Fuels is a premier supplier of propane in Reidsville and the surrounding area. You'll even enjoy additional benefits and savings when you become an autofill customer of Carolina Fuels.
Call (336) 623-9741 today to request propane or schedule a propane delivery. We look forward to helping you enjoy the benefits of propane.
https://www.berico.com/wp-content/uploads/2023/05/berico-logo-2023-2.png
0
0
Team Berico
https://www.berico.com/wp-content/uploads/2023/05/berico-logo-2023-2.png
Team Berico
2020-10-09 20:45:39
2023-01-24 05:50:32
The Benefits of Propane Energy