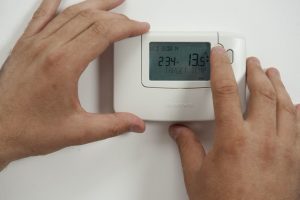 As the main control panel for your HVAC system, you come to rely on your thermostat to keep your home at a comfortable temperature. And, most of the time, it will do just that. So, it can be rather alarming to head to your thermostat and find that the screen is blank. If your thermostat is currently displaying no information on its screen, there are a few potential problems to consider. Explore the article below to see if you can solve this issue on your own or if professional help will be required.
To bring in professional help with furnace repair in Eden or any other type of HVAC task, call on the team at Berico today. In addition to HVAC service, Berico also offers fuel delivery, tank installation, and more.
Reasons for a Blank Thermostat
You may be dealing with a blank thermostat for one of the reasons below –
• It needs new batteries. If you have a thermostat that runs on batteries as opposed to power provided by the electrical system, it's possible that those batteries are dead. It's quick and easy to pop new batteries into the thermostat, so this is the best place to start when trying to solve the problem.
• Safety issues. As a protective measure, your thermostat may include the capability to shut itself down when a problem is detected in the HVAC system. In other words, if something is wrong with your furnace or air conditioner, the thermostat may shut off so you can't continue trying to use the equipment. This type of problem would need to be addressed by a professional team like that at Berico.
• Tripped breaker. Another good place to look for a solution is in your electrical panel. As the breaker that serves your HVAC system tripped? If so, reset that breaker and see if the thermostat comes back to life.
• It's broken. Unfortunately, a blank thermostat will sometimes mean that the unit is simply broken and in need of replacement. While that's probably not what you want to hear, the good news is that a replacement thermostat is relatively affordable and easy to install. Also, if you have been using an older model thermostat for many years, you may enjoy upgrading to a modern device with advanced features.
Why Update Your Thermostat
Whether your current thermostat is broken or just in need of a simple fix like new batteries, it's still worth considering upgrading that model to a newer version. With a new thermostat, you can pick up features like detailed programming, smartphone control, and more. Being able to exert more control over how your HVAC system operates will not only help you keep your home at a comfortable temperature throughout the year, but it could also help you save money on energy by running the system more efficiently. Reach out to Berico to learn more about what modern thermostats have to offer and whether or not a new unit would be a good choice in your situation.
https://www.berico.com/wp-content/uploads/2023/05/berico-logo-2023-2.png
0
0
Team Berico
https://www.berico.com/wp-content/uploads/2023/05/berico-logo-2023-2.png
Team Berico
2022-01-15 15:54:56
2023-01-24 05:49:23
Why Is My Thermostat Blank?