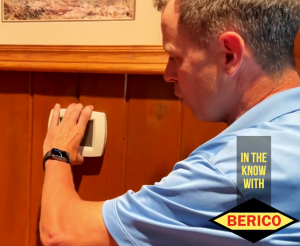 The energy used in your home is what keeps it running on a day-to-day basis. While it's easy to take that energy for granted, paying closer attention to how it works and how much you are using is a worthwhile project. For help understanding how your home uses energy and where you might be able to make improvements, reach out to Berico today. As an HVAC company with a long and respected history in the Greensboro area, you can be sure Berico is up to this challenge. The home energy audit is free of charge, so get in touch today to schedule your appointment!
Why Efficiency Matters
If everything in your home that runs on energy is currently working, you might not feel much of a need to change it. Unfortunately, you might be missing out on some pretty significant upgrades if you fail to bring in a team like Berico to look closer at how everything is operating. An energy audit can make your home more efficient, which means you might be able to enjoy some of the benefits below –
Save money. This is likely your primary motivation for considering an energy audit. If you feel like you have been spending too much money on your energy bills on a monthly basis, you might be able to bring those costs down with the help of Berico. By finding opportunities to improve efficiency, energy consumption can be reduced and your utility bills will shrink at the same time.
Get better performance. A more efficient system is going to help you get better results from your HVAC gear on a daily basis. For example, if it seems like your current system takes a long time to bring the house down to a comfortable temperature, going through an energy audit might reveal that AC repairs – or even AC replacement – could provide the kind of performance that you'd like to see.
Ongoing reliability. Efficiency is closely tied to reliability in the HVAC world. When a system is running efficiently, it tends to steer clear of problems that will lead to downtime and repairs. On the other hand, equipment that is laboring to get the job done and consuming a lot of energy along the way is more likely to have issues that need to be addressed.
For Today and the Future
One of the great things about a Berico energy audit is how it can help you get better results immediately and for years to come. If the audit reveals some problems that can be fixed quickly, you might start enjoying better results the same day. And, if the Berico team is able to track down efficiency problems that have been costing you money, the savings you enjoy will just keep going month after month with no end in sight.
Remember, the energy audit is a free service – so there is no reason not to call! Get in touch right away to learn more and find a time on the schedule that works for your busy life.
https://www.berico.com/wp-content/uploads/2023/05/berico-logo-2023-2.png
0
0
Team Berico
https://www.berico.com/wp-content/uploads/2023/05/berico-logo-2023-2.png
Team Berico
2023-05-02 16:45:46
2023-05-06 16:47:02
Energy Audits Can Make a Big Difference