When the weather turns cold each fall or winter, you simply turn on your heating system to battle the cold. If you have a functioning heating system, you probably rarely give a second thought to what it would be like if you didn't have heat. But that is the reality facing an alarming number of families in the state of North Carolina, some of which reside in Guilford County. According to data collected by local food banks, 75% of NC households have had to choose between heating their homes and buying food. That is the unfortunate reality, but it doesn't have to continue that way. You can make a contribution to help those less fortunate to heat their homes this winter through The Gift of Warmth, a Salvation Army program. Such financial gifts help local HVAC companies like Berico provide families in need with heating system repair in Greensboro, NC.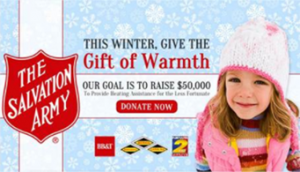 Benefits to Donating:
Donations are tax deductible. As with any charitable donation, your gift is tax deductible, which may result in a larger tax return check this year.
Help families in your own community. Are you more interested in helping your own neighbors than people overseas? If the amount you are able to donate to charities is limited, consider giving back to your own community. You can designate your donation to help families in Guilford, Alamance, or Rockingham and Caswell counties.
Keep people from having to choose which of their basic needs to fulfill. Every person deserves to have his or her basic needs fulfilled each day. Sufficient food, clothing, warm housing, and healthcare are things no one should have to do without or choose between. Your gift can help to ensure that no family is forced to decide whether to eat or pay for heating system repair in Greensboro, NC.
How to Give:
Simply visit giftofwarmth.com and enter your credit or debit card information. The site is secure so there is no risk, but you can also donate using your PayPal account. You can make a one-time donation or set up an automatic monthly contribution. You can also donate in person at any BB&T financial center. The total goal is to raise $50,000 to help local families.
Berico is Proud to Participate in The Gift of Warmth Each Year
Providing reliable heating system repair in Greensboro, NC, is a passion of Berico, Carolina Fuels, and Alamance Oil. A warm home is something Berico wishes for every family. When customers come together and donate to a common goal, amazing results are achieved. The village mentality is something that is still alive and well in many people's hearts, and the Gift of Warmth gives those people an opportunity to exercise that belief. Help Berico to provide local families with much needed heating system repair in Greensboro, NC this winter. Donate to The Gift of Warmth today.
https://www.berico.com/wp-content/uploads/2023/05/berico-logo-2023-2.png
0
0
Andrea Drake
https://www.berico.com/wp-content/uploads/2023/05/berico-logo-2023-2.png
Andrea Drake
2017-11-04 14:59:49
2023-01-24 06:02:37
Give the Gift of Warmth