Air Conditioning Repair in Greensboro, NC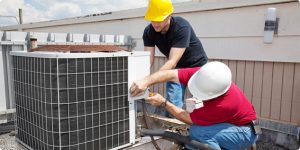 When there is a problem with your air conditioner in Greensboro, it is best to call a professional repair service. It is important to find a reputable company with well trained technicians to repair your air conditioning system. Professionals are trained to diagnose and repair your air conditioner quickly and reliably. There are many problems that can arise with air conditioning systems. Sometimes it's not as obvious as when your system quits running all together. There are small problems that can cause your system to run less efficiently, and such small problems can wear down your system and shorten its lifespan.
One problem that may arise is that your air conditioning system may not cool as well as it once did. It runs and cool air comes out of the vents, but the air may not be as cool as it should be. This causes your system to work overtime to compensate, which raises energy costs.
Sometimes the problem is actually with the thermostat, not the air conditioning unit. If the thermostat is not reading the correct temperature it will not come on when it should, turn off when it should, and will not regulate the indoor temperature as it should.
Another common problem is a refrigerant leak. In this case, simply adding coolant is not a good solution. The leak needs to be repaired by a trained technician and the proper amount of refrigerant needs to be added according to the manufacturer's specifications for that unit. Too much or too little can cause the system to fail. And refrigerant leaks are harmful to the environment.
One of the most basic problems is that filters and air conditioner coils become dirty, causing the compressor or fans to fail. Sometimes it's a drainage problem. In hot weather there is a great deal of condensation that has to drain out. If the drainage pipe is clogged the system cannot drain properly and works less efficiently.
Most air conditioner problems can be prevented with routine maintenance. Berico offers a 17 point AC maintenance plans designed to save you money and energy. If you purchase a maintenance package, a technician will come to your home to check your system to be sure everything is working correctly before hot weather sets in, saving you time and money. Minor repairs and adjustments can be made to keep your system running well so that major problems will not occur. Paying a small fee for this service can keep you from having to pay a large repair bill. It can also extend the life of your air conditioning system. And with routine maintenance to keep your system running as efficiently as possible, you will save money.
If your air conditioner does quit working at any time, in Greensboro your best bet is Berico Heating and Air Conditioning. Berico has provided heating and cooling services to the Greensboro area since 1924. We offer air conditioning installation and repair. Berico technicians are trained in all areas of repair and installation. They keep up to date on changes in the industry through continuous education routines. And Berico offers 24 hour emergency service.
https://www.berico.com/wp-content/uploads/2023/05/berico-logo-2023-2.png
0
0
berico_admin
https://www.berico.com/wp-content/uploads/2023/05/berico-logo-2023-2.png
berico_admin
2014-03-10 05:55:49
2023-01-24 06:07:58
Greensboro AC Repair