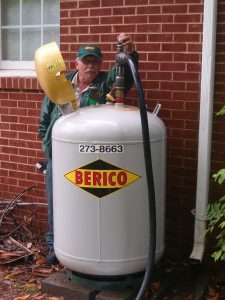 If you use propane to power the heating and cooling of your home, you'll need to have a reliable source of that propane to avoid downtimes throughout the year. Propane delivery is the best way to meet those needs, and this article will cover the basics if you have never before used such a service.
For a propane supplier that you can trust to offer fair pricing and reliable service, Berico is the easy pick. Take a moment today to contact Berico and learn more about what they provide and why you should opt for their Greensboro propane service over the competition.
It Starts with a Tank
For propane delivery to be an option for you, a tank will be required. The size of that tank will depend on a number of factors, but a tank that is in good condition is necessary for you to receive an ongoing flow of propane deliveries. Even if there is a tank already on your property, it might actually belong to another supplier, so Berico may not be able to use it.
The best thing to do to clear up any tank confusion is to call Berico for help. As experts in the industry, they can point you in the right direction and help you understand the status of your current tank and what would need to happen next for deliveries to begin. Don't worry about facing a big bill here – it's possible to go through a free change-over process when you work with Berico.
Get Great Pricing
Establishing an ongoing relationship with a trusted supplier like Berico will allow you to get the best available pricing on your propane deliveries. While market prices do fluctuate, you can be sure you are getting a fair deal when Berico is bringing you fuel regularly. Since the cost of paying for fuel to power your home can get expensive over time, every last penny counts – and you never want to pay more than you have to for energy.
It's Very Safe
If you are holding onto some concerns about having a large volume of propane delivered to your property, you can let go of those worries right away. Propane is very safe and has an excellent track record of being a safe and cost-effective fuel. Not only is propane inherently safe as a heating source, but you'll also have the peace of mind that comes from using a proven supplier for your propane deliveries. Berico has been in this business for generations and has experienced and knowledgeable technicians that can help you with many aspects of your propane usage.
Berico Makes It Simple
You won't have to worry about any propane delivery headaches when you partner with Berico for this service. Once your delivery service is set up and scheduled, you'll need to do nothing else as the professional team will simply bring the propane at the scheduled time and in a safe manner. As time passes, the frequency of your deliveries can be adjusted to dial them in perfectly for your needs. Get started today to see what you have been missing.
https://www.berico.com/wp-content/uploads/2023/05/berico-logo-2023-2.png
0
0
Team Berico
https://www.berico.com/wp-content/uploads/2023/05/berico-logo-2023-2.png
Team Berico
2023-07-19 20:33:56
2023-07-19 20:33:56
How Does Propane Delivery Work?