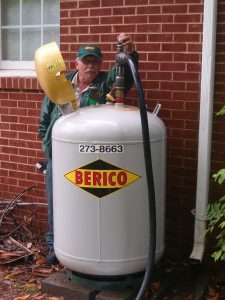 If you have lived in your home for a long time, or if you have recently purchased an older home, you may have electric heat in place. While electric heat is rarely used today, it used to be an option for some situations. If you are still operating electric heat and would like to move away from that system and its cost, it's worth learning more about converting to propane.
Berico is the ideal partner to change your home from electric heat to propane heat. With a proven track record of excellent service and competitive prices, you'll love what Berico has to offer.
Two Main Pieces of Equipment
To make this switch, you will need two main pieces of equipment installed on your property. The first is a propane tank – and no, not the kind that provides gas to your grill. This tank will be much bigger, as it will have to provide enough energy to heat your home, along with possibly running other appliances. This big tank will be installed outside, and it can even be placed underground if you would prefer.
Along with a propane tank, you are also going to need a propane furnace. This new furnace will convert the propane that runs into your home into heat, so you will no longer be reliant on electricity as your source of warming energy. A new propane furnace should be expected to perform far more efficiently than your old electrical unit or electric baseboard heating, allowing for better performance and cost savings.
Adding Other Appliances
You can run other appliances in your home off of propane beyond your new furnace. Depending on the age and condition of your appliances, you may be able to convert some of them to propane, or they may simply need to be replaced with a new unit. Some of the possibilities for propane appliances include your oven, your washer and dryer, and more. The same efficiency and performance gains you enjoyed with your furnace may be available by upgrading other appliances, so it's worth your time to consider each of them one by one.
A Professional Job
No matter how you look at it, the conversion from electric heat to propane is a job that needs to be left to an experienced team like the one at Berico. Installing a large propane tank and a new propane furnace alone is the kind of work that should not be trusted to a company without extensive experience in the industry.  The equipment required, and the potential risks involved, all point to the use of a trusted team to do the work.
With that said, while this is a job for a professional crew, it is not a complicated task. To answer the question from the title of this article, yes – it is easy to convert from electric heat to propane. By pairing with the right contractor from the start of the job, and having a plan for which appliances you would like to include in this conversion, your home can be running on efficient propane energy sooner rather than later.
https://www.berico.com/wp-content/uploads/2023/05/berico-logo-2023-2.png
0
0
Team Berico
https://www.berico.com/wp-content/uploads/2023/05/berico-logo-2023-2.png
Team Berico
2021-07-20 16:16:34
2023-01-24 05:50:23
Is it Easy to Convert Electric Heat to Propane?