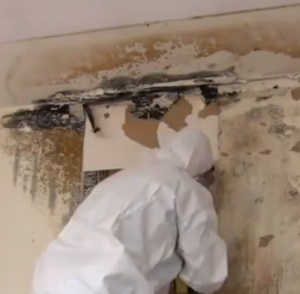 When the weather gets hot outside, your AC system may run most of the day to maintain a comfortable temperature.  While it is operating, the system also removes moisture from both indoor and outdoor air brought in for ventilation. However, sometimes old air conditioners do not function as they should and don't remove as much moisture. Warm environments with high humidity levels can lead to mold growth which is a health risk for everyone in the home or building. Mold reproduces through spores that can remain dormant for years. They become active again when there is moisture. However, mold growth can be managed indoors by controlling moisture indoors. An HVAC contractor in Eden, NC can install a new system that will help control moisture indoors and provide better air circulation.
Mold Caused by Inefficient HVAC Systems Can Damage Property
According to the US Environmental Protection Agency, you should regularly examine your HVAC system, not just for mold, but for moisture. When there is excessive moisture, mold growth will often happen, particularly if the moisture problem remains undiscovered. Mold damage can cost a business a lot of money to repair. In libraries, mold growth can deteriorate rare books and documents, which are costly to replace. The pungent odor of mold or visible water damage are sure signs there is a problem. Mold colonies are capable of growing inside of the walls of your building, and they continue to grow as long as there is moisture. A library in Shreveport, LA needed HVAC replacement because of mold damage, as noted in www.shreveporttimes.com:
"Shreve Memorial Library will spend upwards of $236,000 to upgrade its heating, ventilating and air conditioning system to combat the growth of mold on rare, historical text, microfilm and books housed on the third floor of its downtown Shreveport branch, according to the Board of Control's September minutes.

According to the minutes, engineering firm Storer Services recommended repairs be made to retrofit the library's poorly functioning HVAC system. The system allowed for high humidity which created conditions for mold to grow."
Improve Health with a new HVAC System, which reduces Mold Growth
It is important to have an HVAC professional like Carolina Fuels, to routinely inspect the drain and condensate pans to make sure they are draining properly. If they are blocked, the moisture that accumulates will be a breeding ground for mold. They will also make sure that all HVAC ducts and system components are free of any moisture. If your cooling system is over ten years old, it may not be dehumidifying properly or operating efficiently. Eliminate a mold problem by replacing an inefficient, older HVAC system with a new system and breathe healthier air. Quality, high-efficient HVAC systems that deliver consistent cooling and dehumidification are essential to the overall health of homes or commercial facilities. Moisture removal can enhance indoor air quality (IAQ) and comfort while maximizing the life of your building or home. Continually taking moisture out of the air while maintaining comfortable temperatures, your HVAC system works efficiently to filter out harmful bacteria and mold.
In hot and humid regions, such as the Southeast,there is a possibility you could have mold growth. Carolina Fuels will send an HVAC contractor in Eden, NC to examine your existing heating and cooling system, and provide a quote for a repair or replacement to help you restore efficiency and humidity balance. Protect your business by having a safe, effective and highly efficient HVAC system in place to moderate temperatures and humidity levels inside of your facility. Call us today for a free consultation at 336-623-9741.
(Source: Mold Spurs Library to Upgrade HVAC System, www.shreveporttimes.com, January 31, 2015)
https://www.berico.com/wp-content/uploads/2023/05/berico-logo-2023-2.png
0
0
berico_admin
https://www.berico.com/wp-content/uploads/2023/05/berico-logo-2023-2.png
berico_admin
2015-07-05 07:50:47
2023-01-24 06:06:32
Mold Problem? Hire an HVAC Contractor in Eden, NC to Install a New HVAC System