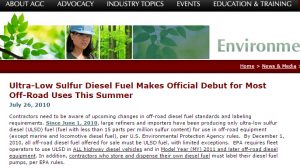 If you have farm equipment that runs on diesel fuel, you can reduce your exhaust emissions by using ULSD (Ultra-low sulfur diesel) fuel in your off road vehicle. Regarding off-road diesel equipment and the compatibility with using ULSD fuel, The Associated General Contractors of America stated the following on http://newsletters.agc.org/:
"All diesel engines of any age can use ULSD fuels (per manufacturer's specifications), but they are required for use in newer construction equipment.  Using anything else is illegal, may reduce power and fuel economy, and cause damage to engine components that may not be covered under warranty."
With better fuel, you can become more efficient in your farming or construction uses, while helping the environment. The greater fuel efficiency experienced with diesel fueling has brought more uses for the ULSD fuel in various off road applications. CAT and John Deere equipment can have longer life expectancies by using ULSD fuel since the high energy amount per gallon means that there will be less wear on the engine for an extended time. At Berico Fuels, we make it easy to get your tanks refilled so you can work efficiently.
Off Road Fuels, Such as ULSD, Are Better for the Environment
The EPA recommends switching to ULSD fuel to produce a significant reduction in emissions:
"According to the EPA, switching to ULSD results in a 5 to 10 percent reduction in emissions, depending on the baseline fuel sulfur level. See EPA's report Cleaner Diesels: Low Cost Ways to Reduce Emissions from Construction Equipment, March 2007.  ULSD provides an even greater benefit when it is paired with advanced diesel engine technology designed to further reduce exhaust emissions."
At Berico Fuels, we provide ULSD fuel, as well as gasoline, #2 heating oil, propane and kerosene to help our customers get the fuel they need for their equipment. Seven days a week, we provide competitively-priced options for diesel fueling and other fuels for various uses, such as convenience stores, farming, construction and other applications.
New Emission Control Devices Installed for Equipment with ULSD Off Road Fuels
Newer farming and construction equipment benefit from the lower emissions and are equipped with advanced emission control devices in their engines, as discussed on http://newsletters.agc.org/:
"Meeting the federal government's aggressive engine emissions standards means equipping newly manufactured engines with advanced emission control devices like particulate filters and traps.  These new emissions devices are extremely sensitive to high sulfur levels in fuel and if exposed, can suffer loss of performance or be rendered completely ineffective, nullifying emissions control benefits.  Evidence of misfueling (using higher sulfur fuel in new 2011 machines) can also impact manufacturer's warranty coverage."
At Berico Fuels, we can check to make sure the farm equipment or construction vehicle that you use is compatible with the type of fuel that you need for off road diesel fueling. Our expertise in available fuels and current equipment will help you to locate exactly what you need to stay energy efficient and extend the life of your equipment. Contact us to find out more information on our commercial fueling solutions: 336-273-8663.
(Source: Ultra-Low Sulfur Diesel Fuel Makes Official Debut for Most Off-Road Uses This Summer,http://newsletters.agc.org/, July 26, 2010)
https://www.berico.com/wp-content/uploads/2023/05/berico-logo-2023-2.png
0
0
berico_admin
https://www.berico.com/wp-content/uploads/2023/05/berico-logo-2023-2.png
berico_admin
2015-01-28 07:01:31
2023-01-24 06:07:08
Reduce Exhaust Emissions with Off Road Fuels, Such as ULSD