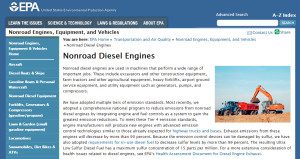 If you are in the farming or construction industry, you probably use a lot of machines that have non road diesel engines. If you are looking for a low-cost fuel with clean emissions and great fuel economy, low sulfur diesel fuel is a great choice. At Berico Fuels, we carry a variety of commercial fuels, including low sulfur diesel fuel for off road vehicles and #2 heating oil for home and business heating systems. What types of machines can benefit from the use of low sulfur diesel fuel? The EPA lists some of the construction vehicles and farm equipment that use this type of fuel:
"Nonroad diesel engines are used in machines that perform a wide range of important jobs. These include excavators and other construction equipment, farm tractors and other agricultural equipment, heavy forklifts, airport ground service equipment, and utility equipment such as generators, pumps, and compressors."
When you need delivery of low sulfur diesel fuel, contact Berico Fuels to get the most competitive pricing and excellent service. Our knowledgeable service team will make sure the fuel is correct for your equipment, to ensure safety and reliability. If you need #2 heating oil, we can deliver it directly to you.
Decreased Emissions and Newer, More Efficient Parts
Forklifts, compressors, excavators and other machines will greatly reduce emissions while using low sulfur diesel. From the EPA's initiative in reducing emissions:
"Low sulfur (500 ppm) and Ultra Low Sulfur Diesel (ULSD) fuel will be phased in for nonroad, locomotive, and marine (NRLM) engines from 2007-2014. These fuel requirements, coupled with advanced emission control technologies, will decrease emissions from these engines by more than 90%."
A 90% reduction in emissions from agricultural and construction equipment will help to make the air less polluted. At Berico Fuels, our "green" initiative involves keeping our customers informed of newly available fuels and equipment to keep emissions minimized while increasing efficiency. Along with low sulfur diesel for outdoor vehicles, #2 heating oil is readily available for your family's heating comfort, and can be delivered quickly to keep you warm during the winter months.
Whether you need residential heating oil or commercial fuel, contact Berico Fuels to schedule your fuel delivery: 336-273-8663. We are helping the agriculture and farming industries with fuel supplies and integrative solutions and are the trusted source as your commercial fuel supplier.
(Source: Diesel Fuel, http://www.epa.gov//, 2014)
https://www.berico.com/wp-content/uploads/2023/05/berico-logo-2023-2.png
0
0
berico_admin
https://www.berico.com/wp-content/uploads/2023/05/berico-logo-2023-2.png
berico_admin
2015-01-14 07:00:08
2023-01-24 06:07:09
Various Types of Machines Benefit from Non Road Low Sulfur Diesel Fuel