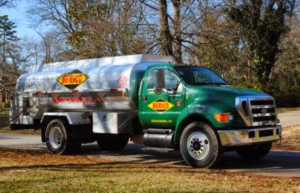 Are you looking for ways to lower your utility costs this winter? When the weather gets cold it is necessary to heat your home in some way. Whether you use propane, natural gas, electricity, heating oil, or another energy source for home heat, there are ways to reduce the cost. From furnace maintenance to propane deals in Burlington, NC, there are plenty of ways to save.
Schedule a furnace tune up. You may have heard that your HVAC (heating, ventilation, and air conditioning) system needs regular maintenance. This not only prevents your system from breaking down, but it improves the efficiency of your furnace. An efficient furnace uses less energy, whether that's electricity, propane, heating oil, or gas. When less energy is used, you pay less on your utility bills.
Improve your insulation. Do you have some rooms that are too cold or perhaps near doors and windows? Does it seem that your furnace is running constantly? You may have cracks or leaks that cold air can get through. Sealing up cracks around windows and doors can really reduce your heating costs. For further cost reduction, consider having a specialist come in and better insulate your home. You may pay the cost up front for this service, but the money you save will make it worth your while.
Switch from electric heat to propane or heating oil. If you're using electricity to heat your home, you may find that propane or heating oil is much more affordable. Switching is easy and new customers often receive promotional discounts. You can also find propane deals in Burlington, NC, quite easily at certain times of the year. Paying for propane or oil at one time means you avoid rising monthly bills.
Install a new furnace. Is your furnace getting old? If it's 10 or 15 years old you could definitely save energy by purchasing a new furnace. New heating systems are much more efficient than systems that were made even 7 years ago. A high-efficiency furnace uses significantly less electricity, propane, oil, or gas, which saves you money on home heating bills. The cost of a new furnace can be recouped in just a few years of lower energy bills.
Get Propane Deals in Burlington, NC, through Alamance Oil
If you're looking to save money this winter, you should already be looking for propane deals in Burlington, NC, this fall. Being prepared early is another great way to save money on heating costs. Alamance Oil offers $20 off a propane delivery when you become an automatic fill customer for the first time. If you're not an Alamance Oil Customer, switching means your first 75 gallons of propane is free, along with a free tank swap out. Check out other specials and find so many ways to save. Don't pay too much for home heat this winter. Save through Alamance Oil. Call (336) 226-9371.
https://www.berico.com/wp-content/uploads/2023/05/berico-logo-2023-2.png
0
0
Team Berico
https://www.berico.com/wp-content/uploads/2023/05/berico-logo-2023-2.png
Team Berico
2017-09-18 18:33:32
2023-01-24 06:02:42
Saving Money on Your Heating Bills This Winter