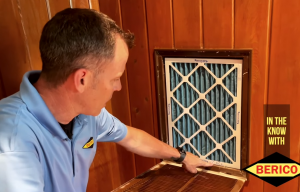 Life in North Carolina is made far more comfortable through the use of a reliable air conditioning system. Whether you've lived here your whole life or just for a single summer, you know well how important it is to have cool air flowing throughout the warm season. While any kind of air conditioning is helpful, a high-efficiency system is even better – and the benefits of such a system are outlined below.
Heating and air companies are numerous in this part of the country, but few deliver results like Berico. For everything from minor service and repair up to a complete HVAC replacement, Berico is ready to serve you. Get in touch today to learn more.
1 – Save Money
This is likely the primary motivation for many people to consider a high-efficiency system, so it only makes sense to start here. When your system runs efficiently, it will use less energy to reach the desired temperature – and that means you'll spend less money on your utility bill month after month. When considering the cost of new HVAC equipment, it's important to take this factor into consideration. As the months go by and you gradually save more and more money, the investment you made in upgraded equipment will quickly become worth it.
2 – Great Performance
You should also enjoy excellent performance when you have a high-efficiency AC system. That means that your home will cool relatively evenly from room to room, and it won't take long to get to a comfortable temperature. Given the hot and humid summers that are common in North Carolina, upgrading your air conditioning is a logical choice.
3 – Kind to the Environment
Using less energy isn't only helpful in terms of saving you money, but you'll be doing a favor for the environment at the same time. Consuming energy places stress on the environment in one form or another, so cutting back is a responsible thing to do – and you can still get the great performance you desire at the same time.
4 – Stay Up and Running
There are few things quite as frustrating as having your air conditioning system unavailable during the hottest time of the year. While that possibility can never be eliminated, it can be reduced by upgrading to a modern AC system that features high-efficiency equipment. This equipment won't have to work as hard as your old gear, so there is a good chance it will remain properly functional throughout the summer and beyond.
5 – It May Be Quieter
You might not realize just how loud your current air conditioning system is until you upgrade to modern, efficient gear. A new system will likely run far quieter than your old one, meaning you can enjoy the peace and quiet that you deserve in your home without having to give up the cooling you need to stay comfortable.
High-efficiency air conditioning equipment is here to stay, so reach out to Berico right away to discuss the possibility of making this upgrade before the hot weather arrives.
https://www.berico.com/wp-content/uploads/2023/05/berico-logo-2023-2.png
0
0
Team Berico
https://www.berico.com/wp-content/uploads/2023/05/berico-logo-2023-2.png
Team Berico
2023-04-21 19:01:38
2023-04-21 19:01:38
The Top 5 Benefits of a High-Efficiency Air Conditioning System