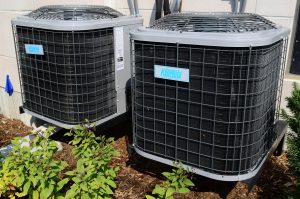 When cared for properly, an HVAC system can last a very long time. It won't, however, last forever. HVAC systems are made up of a variety of mechanical parts, and those parts are inevitably going to wear out at some point, even when proper heating and air conditioning service is provided. If you think the system that currently serves your home is nearing the end of its useful life, the five signs below could help you make that determination.
Berico is a leader in HVAC in High Point, so feel free to give them a call at any time with questions about your system or the services they provide. With the right team on your side, dealing with this major project will suddenly feel like a simple process.
1 – It Can't Reach the Right Temperature
This is perhaps the first sign you'll notice that something might need to be done about your HVAC system. If you set the thermostat to a specific temperature, and the system simply can't get to that temperature even if it runs all day, it might be time for new equipment. At some point, even a quality system won't be able to get the job done any longer, and the cost of repairs might not make sense compared to the cost of just starting over. Pay attention to how long the system has to run to reach your target temperature, if it is able to reach it at all.
2 – Costs are Rising
Watch your utility bills for signs that your HVAC system is consuming more energy than it used to. If those bills are steadily rising and the cost of fuel isn't, you may be facing a system that isn't as efficient as it once was, so it needs to consume quite a bit more energy to accomplish the same job. Of course, to make sure this comparison is accurate, be sure to consider any changes to the per-unit cost of energy along the way.
3 – It's Been a Long Time
Even if your current system is working reasonably well, you still might want to have replacement on your radar if it has been a long time since your home had a new system (or if it is still on the original equipment). There is no specific lifespan for HVAC equipment, but you can use 10 – 15 years as a general range for how long a system may last. Yours could go well past that mark, of course, but it's worth thinking about upgrading if your gear has been working hard for well over a decade and counting.
4 – The HVAC System is Loud or is Making Strange Noises
Sometimes, changes in the sounds that your HVAC system is making will indicate that it's about time to bring in some new equipment. Of course, it could be that a simple repair is the better option, so get expert help when you notice new noises so you can make the right choice based on the situation at hand.
5 – Inconsistent Performance
You should know what you are going to get each time your cooling or heating kicks on. If the equipment currently in your house doesn't seem to produce the same results time after time, consider upgrading to new gear that will run more efficiently, will be quieter, and will make your home a more comfortable place to live.
Berico has been helping folks stay comfortable in their homes for nearly a century and is a leader in HVAC in High Point, so feel free to give them a call at any time with any concerns or issues that you have with your HVAC system.
https://www.berico.com/wp-content/uploads/2023/05/berico-logo-2023-2.png
0
0
Team Berico
https://www.berico.com/wp-content/uploads/2023/05/berico-logo-2023-2.png
Team Berico
2023-03-24 15:36:53
2023-03-24 15:36:53
The Top 5 Signs That You Need to Upgrade or Replace Your HVAC System