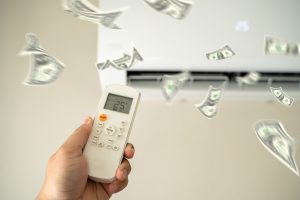 Even when you work with a fair and honest contractor like Berico, upgrading to a new air conditioner is a significant investment. As you get ready to make such a purchase, it's important to think about ways you might be able to offset the cost of the project – and looking at tax credits is one way to do just that. This article will help point you in the right direction on this matter so you can hopefully find a qualifying air conditioner that suits your needs.
If you are going to have a new system installed, or you just need some Greensboro AC repair, Berico is the easy pick. As a long-time leader in HVAC in Greensboro and the surrounding area, you can be sure your project will be in good hands.
Energy Efficiency Tax Credits
The idea behind the tax benefit for purchasing a new air conditioner is to motivate homeowners to upgrade to modern, more efficient pieces of equipment. Many homeowners continue to run systems that are decades old, and as a result, those homes burn far more energy than they would if the HVAC equipment was updated and met modern standards.
So, there are a variety of energy efficiency credits available to homeowners who decide to make improvements. One category of these credits applies to central air conditioners. If you have been thinking about upgrading to a new central air unit, the tax credit that is available might make the project more affordable than you imagined.
Some Basics
It's important to understand some of the basic rules that apply to this credit program so you don't wind up with an unwanted surprise later on. As a starting point, you'll want to purchase an eligible air conditioner – and all ENERGY STAR certified packaged systems meet that qualification. If it's a split system you'll be installing, just make sure it's ENERGY STAR certified and carries a SEER2 rating of at least 16.
Once you are sure that your new system is eligible, you can start to think about how much the project will save you on your taxes. For this kind of project, you can claim 30% of the total project cost, with a maximum credit available of $600. So, if the project cost was $3,000, 30% would be $900 – but you'd only be eligible for a credit of $600 as that is the cap on the program.
Ask a Professional
As is always the case with anything tax related, it's best to speak to a qualified professional about your tax status to make sure you understand the current rules correctly and how they will apply to your return. If you already work with an accountant for your annual filing, a quick call or email to that individual about this air conditioning credit would be well worth your time.
Need More Information?
To learn more about this issue or anything else related to the HVAC system that serves your home, contact Berico right away. The friendly team of professionals that makes up the Berico staff will be happy to serve you.
https://www.berico.com/wp-content/uploads/2023/05/berico-logo-2023-2.png
0
0
Team Berico
https://www.berico.com/wp-content/uploads/2023/05/berico-logo-2023-2.png
Team Berico
2023-06-09 18:50:54
2023-06-09 18:50:54
What Air Conditioner Qualifies for a Tax Credit?