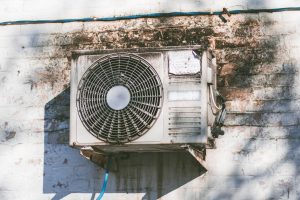 Is your air conditioner starting to show some unusual behavior? It may be a warning that it's time to replace it. There are a variety of signs that indicate an air conditioner may be on its last legs, and replacing it before it gives out completely is wise. If you need AC replacement in Reidsville, call Carolina Fuels (336) 623-9741 or schedule HVAC service. 
Warning Signs of a Dying Air Conditioner
Unusual noises.

Is your AC making a lot of noise? Or are you hearing noises from it that don't seem normal? A worn-out air conditioner tends to get noisy, and those sounds are often a sign that it will soon need to be replaced. 
Fluid leaks.

Do you see liquid around your outdoor unit? Other than a small amount of condensation, there should not be fluids coming out of your air conditioner. Depending on the severity of the leak, this could mean a replacement is necessary. 
Uneven cooling.

Do some areas of your home seem cool and others not? If your air conditioner is not able to cool your home evenly, it may be reaching its end. 
Low airflow.

First, check your filters to make they aren't clogged. If the filters seem fine but airflow is low, you may have a problem that is not easily repaired. System replacement could be on the horizon. 
Air isn't cool.

Is the air coming from your vents is warm instead of cool? This is a sign of major AC malfunction that could result in the need for replacement. 
Needs frequent repairs.

Has your HVAC repairman been your most frequent visitor? When your AC needs to be repaired more than twice in a year, it may be time to consider replacing it instead. 
It's more than 10 years old.

The age of your air conditioner could be reason enough to replace it. Air conditioners have an average life span of 10-15 years. If your system is older than 10 years it significantly less efficient than a new system. Replacing it could save you money on your monthly energy bill. 
Energy bills are on the rise.

A rising energy bill is an indicator that your AC is not operating properly. A malfunctioning machine uses more energy than it should, and your bill may show it. 
An expensive repair is needed.

If your AC requires a repair that costs over half the total cost of a new unit, your best option may be to go ahead and replace it, especially if it is an older system. 
Poor air quality.

If you notice strange smells, especially a musty smell, you could have mold growing in your system which can be extremely harmful to your respiratory system. If you see more dust on surfaces or blowing around your home, this is also abnormal. A total system replacement may be necessary to eliminate these allergens. 
Reliable AC Replacement in Reidsville by Carolina Fuels
If you notice any of these 10 signs, call Carolina Fuels for an AC evaluation: (336) 623-9741 or schedule HVAC service. Your Carolina Fuels technician will give you an honest recommendation on whether or not you need AC replacement in Reidsville. You don't have to fear the cost, because affordable financing options are available. And with a new high-efficiency system, you could even save money on a monthly basis and in the long term. Call Carolina Fuels today and replace that old machine before it can quit on you. 
https://www.berico.com/wp-content/uploads/2023/05/berico-logo-2023-2.png
0
0
Team Berico
https://www.berico.com/wp-content/uploads/2023/05/berico-logo-2023-2.png
Team Berico
2019-07-10 17:10:04
2023-01-24 05:55:00
10 Signs that it's Time to Replace your Air Conditioner