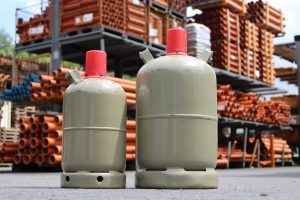 Do you use propane in your home? If so, how do you get your tank refilled? If you're waiting until you run out or are close to running out to call for a refill, you may be doing yourself a disservice. There are some pretty significant advantages to having your propane automatically delivered by your Greensboro propane delivery service. Consider these 4 reasons to switch to propane auto-delivery.
Never run out.

Running out of propane on a cold winter day is not a pleasant situation. Your home can get chilly pretty fast and you may have to wait a while for a refill. Another factor to consider is that letting your tank get completely empty can actually cause problems with the tank and/or your gas lines. If your propane runs out, let your supplier know so that the proper steps can be taken to inspect your tank and gas lines for any leaks or other damage before refilling.
Save money.

There are many ways that automatic propane delivery can save you money. First, by being proactive you can avoid paying the high prices when propane prices spike during a cold spell. Making sure your tank never runs out can help you avoid extra fees that come from the additional steps that have to be taken to refill an empty tank. 
Pay your way.

When you set up automatic propane delivery with your supplier you have more options for payment. You can pay upfront for a tank refill or you can have the cost spread out over the year and make monthly payments. By choosing automatic delivery you are showing your loyalty to your supplier, which makes them want to offer you more options to earn and keep your business. 
Service plans have additional perks.

When you combine automatic propane deliveries with routine furnace maintenance in one affordable package, you can save even more money. These packages also come with extra benefits such as discounts on repairs, priority service, waived fees, propane discounts, and more. 
Payment Options with Berico
When you sign up for auto-delivery you qualify for EZ Pay, which allows you to make payments monthly. Some customers find it much easier to budget monthly for the cost of propane than it is to pay for it in one lump sum. 
Berico's Comfort and Protection Service Plans
By purchasing a Comfort and Protection Service Plan from Berico, you get a package deal on HVAC maintenance and propane deliveries. Premium Preventative Maintenance Plans includes an annual tune-up, 20% off all repairs (parts and labor), 20% off diagnostic fees, no after-hours charges on repairs, $50 Bonus Bucks (can be used toward new equipment), $500 off new Oil or Propane Furnace, and priority service. 
Get These Benefits and More with Automatic Greensboro Propane Delivery from Berico
Peace of mind is a valuable commodity. Take one worry off your list by signing up for automatic propane delivery from a supplier you can trust. Berico has been providing Greensboro propane delivery and HVAC service since 1924. Let Berico handle your propane deliveries so you don't have to worry about running out or calling in before you do. Call (336) 273-8663 to sign up for auto-delivery today.
https://www.berico.com/wp-content/uploads/2023/05/berico-logo-2023-2.png
0
0
Team Berico
https://www.berico.com/wp-content/uploads/2023/05/berico-logo-2023-2.png
Team Berico
2019-08-20 19:41:20
2023-01-24 05:54:58
4 Reasons to Switch to Propane Auto-Delivery vs. Will Call