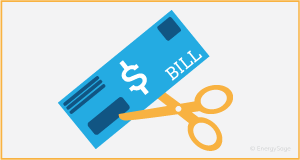 Is your energy bill getting higher and higher each month? It's a common problem and it can leave you wondering why. Stop wondering and get to the bottom of the issue so that you can correct it and get your energy bills down. From paying too much for propane delivery in Burlington to poor insulation, here are 5 reasons your energy bill is too high. 
You need a new propane supplier
Not all propane companies charge the same price for propane. If your supplier keeps raising prices or charging you extra fees, your bill will reflect that. It may be time to find propane delivery in Burlington that also offers fair prices, price-lock plans, and monthly payment options to make your propane more affordable. 
Your furnace needs maintenance
When was the last time your furnace had a tune-up? Your high energy bills could be the result of a dirty, worn-out furnace that is using more energy than it should be. All you need to do is schedule a maintenance appointment with your HVAC company and your furnace will be running at top efficiency. Your bill will be noticeably lower as a result. 
Your furnace is old
Is your furnace more than 15 or 20 years old? If so, you have a much less efficient furnace than the newer models available now. It may be time for an upgrade to a new heating system that uses less energy to keep your house warm and cozy. The money you will save on your energy bills will offset the cost of a new furnace.
You need better insulation
Sometimes the culprit in an energy audit is the insulation. When the existing insulation is insufficient, cold air leaks in and warm air leaks out. During the heating season, a lot of energy can be lost through the walls, floor, ceiling, windows, and doors. Consider adding or upgrading your insulation and sealing any cracks or gaps around doors and windows. 
You need to switch to propane
If you have electric heat, you can likely save money by switching to propane. Electricity is known to be one of the least efficient energy sources for home heat, and you'll see it in your monthly power bill. Switching to propane for home heat is easy and the savings are worth it. 
Alamance Oil Can Help You Lower your Energy Bill
Whether you're looking to switch to a new propane supplier or start using propane for the first time, Alamance Oil provides propane delivery in Burlington as well as complete HVAC maintenance and system replacement. Get a free home energy audit to determine the different areas where your home could be more efficient. 
Call (336) 226-9371 today to speak with the experts at Alamance Oil about propane delivery in Burlington and other services to help lower your energy bills.
https://www.berico.com/wp-content/uploads/2023/05/berico-logo-2023-2.png
0
0
Team Berico
https://www.berico.com/wp-content/uploads/2023/05/berico-logo-2023-2.png
Team Berico
2020-01-17 15:55:27
2023-01-24 05:53:53
5 Reasons for your High Energy Bill and How to Lower it