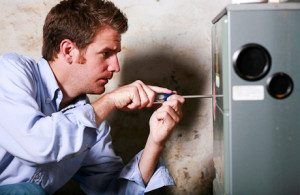 A lot of us take our HVAC systems for granted. We assume they will always work properly to keep us comfortable. We don't even think about repair until our system has a problem. But problems could be prevented with preseason maintenance. For furnace repair in Eden, the best time to schedule maintenance is late summer into early fall. If you wait until the weather gets cold and you first need to turn on your heat, you may find that it doesn't work properly after months of no use. And you won't be the only one in the same chilly situation, which means your local HVAC companies will be busy and you may have to wait a while for service. Schedule maintenance with Carolina Fuels now and rest assured that your furnace will work properly later when you need it.
Furnace maintenance prevents problems by inspecting, cleaning, or repairing the following Annual Precision Tune-Up 20 Point Check:
1. Replace nozzle and fuel filter as needed
2. Check and adjust all safety controls
3. Check primary control and clean contacts
4. Inspect and clean flue pipe, draft regulator, barometric damper, & combustion chamber
5. Inspect electrodes and nozzle assembly
6. Clean burner controls, & fan blades
7. Adjust burner for maximum efficiency
8. Inspect and vacuum heat exchanger (check for dangerous cracks)
9. Lubricate motors, bearings, and all moving parts
10. Check electronic ignition controls
11. Check complete furnace cycle
12. Clean chimney base
13. Inspect and clean blower assembly
14. Check voltage and amperage to all equipment
15. Check connections and wiring
16. Test functionality of oil pump and lines
17. Clean or replace pump strainer
18. Perform efficiency check
19. Ensure the customer is informed about their equipment and advise of necessary repairs/recommendations
20. Replace customer supplied air filter
These are the main points of inspection and repair, but maintenance covers many more parts that have the potential to cause problems with your furnace. Avoiding unnecessary repairs will save you money, as will a more efficient furnace. The cost of a maintenance plan is definitely less than purchasing a new HVAC system, and regular maintenance will extend the life of your current system. And an HVAC system that runs properly is safer for you and your family. Schedule preventative maintenance with Carolina Fuels to get your furnace ready for the cold.
Fast, Reliable Service
In the unfortunate even that you do need HVAC service in Eden, NC, Carolina Fuels provides fast, reliable service. Open 24 hours a day, 7 days a week, Carolina Fuels is always ready to meet your HVAC needs. Certified technicians can repair your entire HVAC system, both heating and cooling. Since 1924 Carolina Fuels has been providing HVAC repair to many satisfied customers. For trustworthy and dependable HVAC contractors in Eden, NC, contact Carolina Fuels at (336) 623-9741.
For more information about home heating, visit http://energy.gov/articles/energy-saver-101-infographic-home-heating
https://www.berico.com/wp-content/uploads/2023/05/berico-logo-2023-2.png
0
0
berico_admin
https://www.berico.com/wp-content/uploads/2023/05/berico-logo-2023-2.png
berico_admin
2015-10-31 08:17:01
2023-01-24 06:05:51
Be Proactive with Furnace Maintenance in Eden