Have a Cool Summer with Greensboro Air Conditioning Service and Tips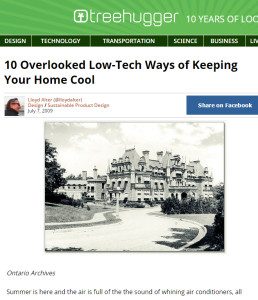 Spring is almost in the air, with summertime shortly afterwards. If you felt too hot last summer, we have some tips and ideas for keeping cooler air in your home this summer. At Berico Fuels, now is the time that our customers usually receive maintenance for their AC units to make sure that everything is working correctly before the hot and humid summer months. Along with the recommended annual Greensboro AC maintenance, there are a few things that you can do, according to www.treehugger.com, that will keep you cool naturally and bring you more comfort this summer:
1. Use awnings.

According to the Washington Post, The Department of Energy estimates that awnings can reduce solar heat gain—the amount temperature rises because of sunshine—by as much as 65 percent on windows with southern exposures and 77 percent on those with western exposures. Your furniture will last longer, too.

We noted in Planet Green last spring that this can translate into a saving of cooling energy of 26 percent in hot climates, and 33 percent in more temperate climates where it might even make air conditioning unnecessary."
Awnings are often overlooked, however a drive through the Greensboro, NC area will show you that they are widely used and compliment the overall look of the home. Determine which direction your house faces and use awnings in the locations that will bring the most energy savings for your home. In Greensboro, HVAC service will not be needed as frequently if the AC unit is not running at full capacity as often due to more shade and less heat coming into your home. Here's another tip:
2. Plant a tree.

Geoffrey Donovan studied it in Sacramento, and calculated the savings.

"Everyone knows that shade trees cool a house. No one is going to get a Nobel Prize for that conclusion," says the study co-author, Geoffrey Donovan. "But this study gets at the details: Where should a tree be placed to get the most benefits? And how exactly do shade trees impact our carbon footprint?"

Find out in Planet Green: Be Cool and Plant a Tree"
Trees are great for the environment and they help to keep your house cooler. Research the various types of trees that grow well in the Greensboro area, and plant a few to keep your home shaded so you will not have to use your AC unit as often. Here's a tip that can make a huge difference with your home's temperature this summer:
3. Plant vines.

Climbers can dramatically reduce the maximum temperatures of a building by shading walls from the sun, the daily temperature fluctuation being reduced by as much as 50%.Together with the insulation effect, temperature fluctuations at the wall surface can be reduced from between –10°/14°F to 60°C/140°F to between 5°C/41°F and 30°/86°F."
Virginia creeper and ivy have been known to grow quickly in the Greensboro climate, and they can greatly help with the coolness of your home this summer. With an energy efficient air conditioner, your energy savings will help you save money and stay cooler this summer.
There are some other ways to stay cool, such as painting your roof a lighter color, using ceiling fans throughout your home and using your outside grill to cook hot foods instead of preparing them indoors. All of these techniques and tips will assist you with keeping your home comfortable and cooler this summer. At Berico Heating and Air Conditioning, we provide Greensboro AC maintenance so you can rely on your system the entire season and not need to make emergency repair phone calls or experience any downtime. Call us at 336-273-8663 to schedule your Greensboro air conditioning service today.
https://www.berico.com/wp-content/uploads/2023/05/berico-logo-2023-2.png
0
0
berico_admin
https://www.berico.com/wp-content/uploads/2023/05/berico-logo-2023-2.png
berico_admin
2015-04-07 07:40:37
2023-01-24 06:06:38
Greensboro Air Conditioning Service and Tips For A Cool Summer