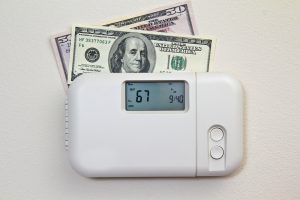 As the weather has gotten warmer, you will find that you'll need to turn on your air conditioner more often and soon it will be running almost constantly. Are you confident that your AC will operate properly? You may not know until you need to use it, and then you could find yourself in need of repair. Sometimes when your air conditioner sits unused for a few months, it can get a bit rusty, metaphorically speaking and sometimes literally. A tune up and thorough cleaning may be all that is needed to have it working efficiently, but in some cases an actual repair may be required to get it functioning properly.
How much does AC repair cost? Here's what you can expect for a wide variety of air conditioner repairs.
Average Cost of Air Conditioner Repair
According to Home Advisor, the average AC repair cost falls between $168 and $605. But it is possible that some repairs could reach into the thousands, especially if your system can't be repaired and needs to be replaced.
Common AC Repairs and the Average Cost Range
Refrigerant leak detection and repair: $225 – $1,600
AC refrigerant recharge: $100 – $800
Circuit board replacement: $120 – $600
Replace fuses, circuit breakers or relays: $15 – $300
Thermostat replacement: $115 – $470
AC compressor repair hard start kit: $100 – $250
Capacitor or contactor replacement: $90 – $475
Home air compressor replacement: $1,350 – $2,300
Evaporator coil replacement cost: $650 – $1,200
Condensing unit fan motor replacement cost: $100 – $700
What About My HVAC Warranty?
HVAC systems are often covered by a manufacturer's limited warranty. If your system is relatively new and still covered under the manufacturer's limited warranty, the cost of the parts for the repair may be covered. However, labor is not typically covered by the HVAC warranty, meaning you will still pay for the cost of labor on an hourly basis.
How Can I Avoid Unexpected AC Repair Costs?
No one expects their air conditioning to break down until it happens. Then you're stuck without AC on a hot day while you wait for a repair service to get to you. And you can expect that during a heat wave, you're not the only one with a busted HVAC system. Emergency and after hours repairs also come with an additional fee should you call for help during the night or on the weekend.
But there is a way to avoid all the hassle. Sign up for a Comfort and Protection Service Agreement with Berico. The plan includes two tune ups per year, one for your AC and one for your heat. Regular maintenance helps your HVAC system operate more efficiently and with a decreased chance of a breakdown.  Plan members also enjoy 20% off emergency and after hour fees, diagnostic fees, and repairs among other perks.
Call (336) 273-8663 or sign up for a Comfort and Protection Service Plan with Berico today.
https://www.berico.com/wp-content/uploads/2023/05/berico-logo-2023-2.png
0
0
Team Berico
https://www.berico.com/wp-content/uploads/2023/05/berico-logo-2023-2.png
Team Berico
2022-04-10 17:37:16
2023-01-24 05:47:10
How Much Does AC Repair Cost?