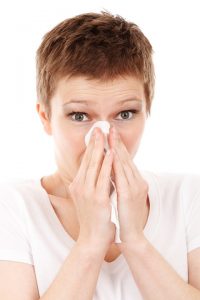 Spring is a beautiful time of year. The birds are chirping, the flowers are blooming, and the grass is getting greener. But if you have allergies, the blooming flowers are not your friend. Yellow pollen blows on the breeze and settles on every surface. It even finds its way into your home.
If you or someone in your household suffers from allergies, you need to know how to reduce the amount of pollen in your house. Here are some of the best ways to manage pollen and help reduce allergy symptoms for you and your family.
Replace your air conditioner filters often. The filters in the intake vents of your central air conditioner are there to remove dust, pollen, and other particles from the air before it enters your HVAC system. Replacing them often will filter more pollen from the air.
Use high efficiency filters. Consider buying high efficiency air conditioner filters for your HVAC system. Some are even designed specifically to filter pollen from the air.
Take shoes and jackets off at the door. A lot of the pollen in your home comes in with you and your family when you enter your home. It helps to remove shoes and outerwear at the door to keep it contained.
Wash hands after getting home. Pollen settles on surfaces that are frequently touched. Have everyone wash their hands as soon as they arrive home to prevent the spread of pollen throughout the home.
Keep windows and doors closed. When the weather gets nice it can be tempting to open the windows and doors, but screens can't block out pollen. Leave the windows and doors closed and use your HVAC system to keep your home feeling comfortable.
Don't dry laundry on a clothesline outside. Nice weather also makes it tempting to hang your laundry on the line. But pollen will settle on your clothes and sheets while they're blowing in the breeze and all you'll bring it inside.
Dust, vacuum, and mop more frequently. Pollen that does get inside will settle on floors and surfaces, so cleaning more often will help eliminate it. If you suffer from allergies, consider wearing a mask while you clean to keep from breathing in the pollen. You can also get a HEPA (High Efficiency Particulate Air) filter in your vacuum to remove more particles, including pollen, from your home.
Have your ducts professionally cleaned. If you've never had your ducts cleaned, there could be pollen, dust, and other debris that is blowing around your home whenever your HVAC system runs. Consider hiring a duct cleaning service (such as Berico) to thoroughly clean out your ducts.
Get an air purification system. Air purification systems can improve your indoor air quality by removing particulates from the air, like pollen, and creating fresh air.
Berico Offers Duct Cleaning Services and Air Purifiers 
Berico is one of the only Burlington HVAC companies that provides both of these services:
Duct Cleaning Service. Berico provides duct cleaning services to remove dust, pollen, and other debris from your ducts to improve your indoor air quality and the efficiency of your HVAC system.
iWave Air Purification System. Berico offers installation of iWave air purification that works with your HVAC system to remove particles and pathogens from the air and produce fresh, clean air for your home.
Call (336) 273-8663 today to schedule service or get a quote on one of these services.
https://www.berico.com/wp-content/uploads/2023/05/berico-logo-2023-2.png
0
0
Team Berico
https://www.berico.com/wp-content/uploads/2023/05/berico-logo-2023-2.png
Team Berico
2022-04-18 17:40:14
2023-01-24 05:47:09
How to Reduce Pollen in the House