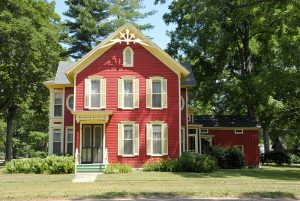 Older homes have a certain charm, a beauty that invokes a sense of nostalgia. Homes were once built with a level of personalized craftsmanship that is rarely displayed in newer homes. At the same time, older homes are often missing the modern conveniences homeowners have come to appreciate, such as central air conditioning. Installing a brand new AC system in an older home is possible, but it comes with its own set of challenges. If your home has an existing HVAC system, it may simply need a little tender loving care. Whether you need a full installation or AC repair in Reidsville, Carolina Fuels can handle the job.
Does the House have Existing Ductwork?
If there are ducts leading to each room of the home from either a forced air heater or an old air conditioning system, the project will be much easier. The most important thing to consider is that the existing ducts should be cleaned and inspected for leaks. If any leaks are found, they should be repaired if possible or the entire duct system should be replaced, especially before you consider installing a new air conditioning system. Faulty ductwork will drastically reduce the efficiency of your new AC and you'll most likely find yourself repairing or replacing it. If your home does not have any ductwork, installation is possible, but it isn't always an attractive option. Ducts installed against ceilings are difficult to disguise and may require ceilings to be lowered, which isn't always ideal. It can take away from the overall aesthetic of the home and often make rooms feel smaller and cramped. Another less visible option is to install ducts in closets, but consider that you'll lose valuable storage space, which older homes are often lacking by modern standards. If neither of these options sounds appealing to you, there's still another viable avenue.
Ductless HVAC Systems are Flexible and Affordable
One of the best options for installing air conditioning in a home without ductwork is a ductless mini-split system. Mini-split refers to the fact that the system is basically split between a small outdoor unit and an individual wall-mounted unit in each room. Most older homes already have some type of heating system, whether it's a radiator, furnace, boiler, or other type. Air conditioning can be added to it with a mini-split ductless system. The best part is that the wall-mounted unit is the only part that needs to be installed inside the home. You save a lot of space by opting out of ductwork that can be intrusive and bulky. Another major advantage is that you can achieve zone cooling inside your home, meaning the temperature in each room can be set according to personal preferences.
AC Repair in Reidsville Can Restore an Old System to Like-New Condition
If you are moving into an older home that has an existing air conditioning system, it is wise to have it thoroughly inspected and any issues repaired. An old system may not have to be replaced, it may simply need restoration. While newer systems tend to be more efficient, the real key to efficiency is a well-maintained air conditioner. For a maintenance plan or a free quote on AC repair in Reidsville or installation of a new air conditioning system in an older home, call Carolina Fuels: (336) 623-9741.
https://www.berico.com/wp-content/uploads/2023/05/berico-logo-2023-2.png
0
0
Team Berico
https://www.berico.com/wp-content/uploads/2023/05/berico-logo-2023-2.png
Team Berico
2018-07-06 17:58:39
2023-01-24 05:58:42
HVAC Tips for Renovating an Older Home