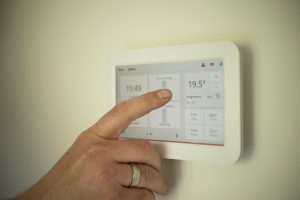 Almost everything is "smart" these days with smart phones at the center of personal technological devices. Even your home's heating and cooling system can be controlled from your phone when you use a smart thermostat. There are many benefits to upgrading to a smart thermostat, so consider these when deciding whether or not a smart thermostat is right for your home. Your HVAC service in Burlington, Alamance Oil, can install a smart thermostat in your home if you decide to make the switch. 
A Smart Thermostat Offers Many 
Benefits to Homes
Homeowners can enjoy many benefits from the use of a smart thermostat to control indoor comfort.  
Save energy. 

When your ho

me

 is unoccupied, it is not necessary for your HVAC system to maintain the same temperature as it would when occupied. Save energy by programming your smart thermostat to raise or lower the temperature

 when no one is home

.

 

Save money.

 

When you save energy, you save money, which helps your hou

sehold budget by lowering your monthly bill. 

 

Convenience.

 

With a smart thermostat, you can enjoy the convenience of being able to control your HVAC system from a distance, 24/7. Override your pro

grammed settings when it turns out you will be home 

due to weather or a holiday, a

ll from your phone

. Forgot to change your thermostat before leaving on vacation? No problem, as long as you have your phone

 with you

. 

 

Comfort. 

The smart thermostat allows you to change the temperature right before you arrive home so that you can maximize your comfort even with an irregular schedule. It also allows you to turn up the 

h

eat before you get out of bed in the morning.

 
With all of these benefits, the initial cost of a new smart thermostat will be worth it and will eventually pay for itself in energy savings. 
Get a 
Smart Thermostat Upgrade
 from the Best HVAC Service in Burlington: Alamance Oil
There are many reasons it's wise to have your new smart thermostat installed by an experienced, reliable HVAC service in Burlington. 
Not every smart thermostat is compatible with every HVAC system.

 

Certain HVAC systems will work with certain thermostats. Let your HVAC 

company

 recommend a compatible thermostat for your home or office. 

 

Proper installation is crucial to proper operation and energy savings. 

For your smart thermostat to 

give you optimal energy savings

, i

nstallation is key

. 

Each technician at Alamance Oil is trained to

 know how to do the job right so that you can get the most from your new thermostat.

 

 

Your HVAC technician

 

can teach you how to program and use the new thermostat

.

 

After it's installed, your technician can walk you through your new thermostat and teach you to program it 

both in your home and from your phone. 

 
When you're ready to upgrade your thermostat, use the HVAC service in Burlington you can trust. Alamance Oil has decades of experience with heating and cooling systems. Always on the cutting edge of technology in HVAC equipment, Alamance Oil can easily install a smart thermostat in your home. Alamance Oil can also keep your thermostat and HVAC system operating efficiently with regular maintenance visits. Call (336) 226-9371.  
https://www.berico.com/wp-content/uploads/2023/05/berico-logo-2023-2.png
0
0
Team Berico
https://www.berico.com/wp-content/uploads/2023/05/berico-logo-2023-2.png
Team Berico
2019-03-20 14:20:50
2023-01-24 05:55:58
Is a Smart Thermostat Right for My Home?