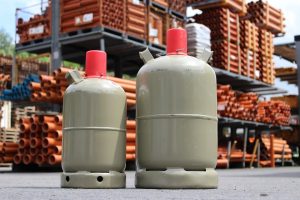 Propane tanks come in a variety of sizes. A home or business should have a tank that is the appropriate size for the structure's typical usage. Your propane supplier in Burlington can recommend the right size tank for you by simply asking some questions about your home or business and appliances. Here's a general overview of the sizes of tanks and the usage they support. 
Small: 120-325 Gallons 
Designed to support a few appliances, this small tank may be all you need if your propane usage is minimal. If you need propane for your stove, clothes dryer, fireplace, water heater, or any combination of two or three of these, a small tank is probably big enough for your home. These tanks are sometimes upright and other times horizontal, depending on your storage space.  
Medium: 500 Gallons 
If you're planning to heat a small home or run more than three household appliances on propane, you'll probably need a medium tank that holds up to 500 gallons. Depending on the square footage of your home, this medium-sized tank won't have to be refilled more often than normal. Your propane supplier in Burlington can give you a good idea of whether or not this tank size will be sufficient. 
Large: 1,000 Gallons 
When you need to heat a larger home and have multiple appliances running on propane, a 1,000-gallon tank will most likely work better for you. Refills should be frequent enough but not so often to become a nuisance. You'll have the freedom to run your furnace, fireplace, range, dryer, water heater, and more all from one tank. A small business may be able to operate on this size tank.  
Extra-Large: 1,450-1,990 Gallons 
Need a commercial grade propane tank? Businesses and larger buildings may likely require an extra-large tank that holds between 1,450-1,990 gallons of propane. If you need to run several large appliances on propane, you'll likely need an extra-large tank. This is one of the largest tanks available. If you require more propane than what an extra-large tank will hold, you may need multiple tanks.  
Other Factors Affect Propane Tank Size Recommendations
When choosing a propane tank size, there are a few other factors to consider besides the square footage of your home and the number of appliances you have that use propane. These include:  
Climate. 

The weather in the area where you live or where your business exists makes a difference in the amount of propane you will require for heating. 

 

Storage space. 

If you have limited storage space, it may limit the size of propane tank 

that will

 fit on your property. 

 

Price and budget.

 If you're just starting out on propane and your budget only allows for a small tank, you can upgrade later when prices and budgets change. 

 
Your propane supplier in Burlington, Alamance Oil, can help you determine what size propane tank you need. Sign up for automatic deliveries so you'll never run out. Call (336) 226-9371.  
https://www.berico.com/wp-content/uploads/2023/05/berico-logo-2023-2.png
0
0
Team Berico
https://www.berico.com/wp-content/uploads/2023/05/berico-logo-2023-2.png
Team Berico
2019-03-07 15:20:06
2023-01-24 05:56:00
Is My Propane Tank the Right Size?