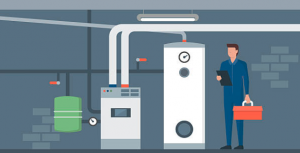 Is your HVAC system acting strangely? If you notice anything unusual about your heating or cooling system, it's best to call your HVAC company right away. The longer you let the problem go, the more damage may be done and the more difficult and expensive it could be to repair. Some situations are even dangerous. Call for HVAC maintenance in Greensboro if you notice any of these 5 things. 
1. You smell gas or propane
If you smell gas or propane (a rotten egg or dead animal type of smell), get out of your home immediately and call a furnace repair expert from a safe distance. Your furnace should not be leaking fuel and neither should your propane or oil tank. But if they are, you will surely smell it and the danger is very real. If you can't get your HVAC company on the phone, call 911. 
2. Your heat won't turn on
If you can't get your heat to turn on when it's cold, you've got an emergency. Make sure your system has power and that your thermostat is set to a temperature that is higher than the current indoor temperature. If it still won't come on you may have a malfunction with the furnace itself, and that's not something to take lightly when it's cold outside. 
3. Your heat won't turn off
Conversely, if your heating system is pumping out heat and your thermostat is way over it's desired temperature setting, you've got another type of problem. Make sure your thermostat is set to the off position for heat and call a furnace repair expert right away. Your home can reach an uncomfortable temperature very quickly and is also wasting fuel at an alarming rate if this is going on. 
4. Your carbon monoxide detector is beeping
It's necessary to have a carbon monoxide detector if you have a furnace that runs on natural gas, propane, or heating oil. If your CO detector is beeping or making any noise, you may have a dangerous level of carbon monoxide in the air in your home. Get out of the house and call your HVAC company as soon as possible from a safe distance. If you can't get them on the phone, call 911. 
5. The circuit breaker keeps tripping
If the circuit breaker your HVAC system is on trips more than once, it's a sign there is something wrong with the electrical portion of your system. An occasionally tripped breaker may be normal, but it if happens repeatedly, you should call your HVAC company. Electrical issues could be serious if not corrected. 
Prevent Emergency Issues with Regular HVAC Maintenance in Greensboro
As with any working machine, mechanical problems can occur. But the chances of such problems happening can be greatly reduced when you keep up to date with yearly HVAC maintenance in Greensboro. Your furnace and air conditioner need to be inspected, cleaned and tuned up regularly to avoid problems and to keep them running at peak efficiency. When you forgo this crucial service, you are putting your HVAC system and your home at risk. Call (336) 273-8663 today to schedule your yearly tune-up.
https://www.berico.com/wp-content/uploads/2023/05/berico-logo-2023-2.png
0
0
Team Berico
https://www.berico.com/wp-content/uploads/2023/05/berico-logo-2023-2.png
Team Berico
2019-12-30 16:11:36
2023-01-24 05:53:56
5 Reasons to Quickly Call a Furnace Repair Expert