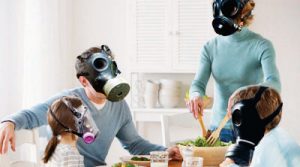 How's your indoor air quality? Is everyone breathing easy? Or do you and your family suffer from allergy symptoms, asthma, dry nose and throat, chronic cough, or other respiratory illnesses? Your furnace may be the source of poor air quality in your home. You may think it's working properly, but there may be some underlying issues with your HVAC in Burlington, NC that you're not aware of. Here are some ways a malfunctioning furnace could create indoor air pollution.
Dirty, Dusty Furnace and Ducts
One of the biggest sources of problems with forced-air heating systems is dirt and dust that gets in past the filter. This can happen when the filter hasn't been changed often enough and gets clogged. Air can't get through when it needs to and the furnace works harder to compensate, pulling particles through or around the filter that would normally be stopped. Dust and allergens that get into the ductwork will end up blowing out through the vents into your home. It can also get into the furnace which can cause problems and impede efficiency. 
Poor Ventilation of Carbon Monoxide
If you have a furnace that runs on natural gas, propane, or heating oil, it creates carbon monoxide (CO) when it burns those fuels to create heat. A properly working furnace has a ventilation system that vents the carbon monoxide outside of your home. However, if there is a problem with the furnace or the ventilation, CO can be released into your home instead of outside. CO poisoning is a serious issue that can cause symptoms such as dizziness and headaches and can be fatal if not recognized and treated. CO monitors are needed in any home with a fuel furnace. 
Lack of Proper Humidity 
Is the air in your home extremely dry during the winter when your furnace runs a lot? A little dryness is normal, but severely dry air is a sign that your furnace may not be operating properly. If you experience a higher than normal amount of static electricity in your home and you suffer from dry nose and throat, your furnace may not be operating properly. Your furnace should be able to control the humidity in your home and keep it at a normal range. It won't be as humid in the winter as it is in the summer, but it shouldn't feel like a desert indoors. If you see a tumbleweed blow through your living room, it might be time to service your HVAC in Burlington, NC. 
Clear the Air with Furnace Maintenance 
An inspection and tune-up can usually correct these issues with your HVAC in Burlington, NC. In many cases just changing your filters can eliminate a lot of pollutants from the air. A thorough cleaning of your furnace should help to remove dust and dirt from the system as well. And repairing any holes or leaks in your ventilation system should prevent excess carbon monoxide from entering your home. 
Call Alamance Oil today at (336) 226-9371 to schedule an appointment for an HVAC tune-up in Burlington, NC to eliminate indoor air pollution.
https://www.berico.com/wp-content/uploads/2023/05/berico-logo-2023-2.png
0
0
Team Berico
https://www.berico.com/wp-content/uploads/2023/05/berico-logo-2023-2.png
Team Berico
2019-12-30 16:42:54
2023-01-24 05:53:55
How a Broken Furnace can Pollute the Air in your Home