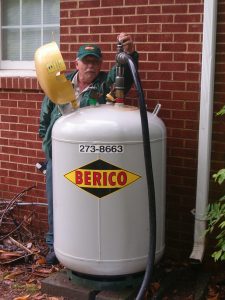 Are you in need of a propane supplier in Greensboro? Whether you're dissatisfied with your current supplier and thinking of switching or you're thinking of using propane for the first time, it's important to find the right supplier. But how do you know which propane supplier is right for you? Here are some questions to ask. 
Will I Need a New Tank to Switch Suppliers?

 If you are currently receiving propane deliveries from another company, you will need to swap out your old tank with a new one from the new company. If you're new to propane, your supplier should bring you a tank. 

 

How Much Does it Cost to Switch? 

The answer you should get from your new company is that switching is free. Look for a supplier who will swap out your old tank for free, which they should do if they want your business.

 

Do You Offer Automatic Delivery? 

For your convenience, automatic deliveries should be an option. This frees you from having to monitor your propane tank to make sure it doesn't run out. You'll never run out with automatic deliveries because your supplier will calculate your usage based on the size of your home, the weather, the number of appliances that run on propane. They should calculate all factors to time your refills accurately.

 

What Incentives do you Offer your Customers? 

Look for benefits such as propane discounts for automatic delivery, maintenance plans, price protection plans, priority service, and other perks.

 

What are your Payment Options?

 If you need to be able to pay online or to have automatically drafted payments, make sure you choose a supplier who offers those options. You may also find it easier to budget if you can pay monthly instead of in a lump sum at delivery. Ask if it's possible to spread the cost out over a few months or the entire year. 

 

Do You Offer Maintenance for my Furnace and Other Propane Appliances?

 You can save a lot of time and money by choosing a supplier that can not only deliver your propane and maintain your tank but who can service your propane appliances as well. 

 

What is your Safety Record? 

This information should be easily accessible and the company should have no problem supplying you with it. Safety is an important consideration with any type of fuel, even with an extremely safe fuel like propane. 

 

How Do I Switch to your Service? 

Any propane supplier in Greensboro that wants your business should make it as easy as possible to switch. Find a supplier that will handle the entire process for you from swapping out tanks to transferring your services. 

 
Berico Meets All of These Requirements and More
Berico makes switching suppliers free, provides you with a tank, offers automatic deliveries, plenty of incentives, flexible payment options, furnace, and propane appliance maintenance, and has an excellent safety rating.  
Become a Berico customer today. Call (336) 273-8663 to switch to the top propane supplier in Greensboro.  
https://www.berico.com/wp-content/uploads/2023/05/berico-logo-2023-2.png
0
0
Team Berico
https://www.berico.com/wp-content/uploads/2023/05/berico-logo-2023-2.png
Team Berico
2019-09-07 13:41:10
2023-01-24 05:54:54
8 Questions to Ask Before Hiring a Propane Supplier in Greensboro