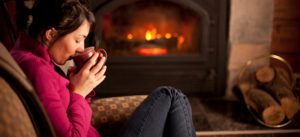 People have been heating their homes with heating oil for years. It may seem like an outdated method of heat, but heating oil truly has its benefits. There are many advantages to oil heat. It's safe, warm, convenient, economical, efficient, comfortable, and versatile.
The number one concern when considering heating systems is safety. Oil heat is very safe because it is not flammable in liquid form. The oil burner combines the right amount of oil with the right amount of air to create a flame that burns within a sealed chamber. This burning mixture heats air, steam, or water that circulates throughout the home to provide heat. Heating oil is non-toxic and non-explosive.
Oil burners have tanks that need to be periodically refilled. One of the biggest advantages to heating with oil is that you have choices when it comes to your oil supplier. You can choose who delivers your oil and how often it is delivered. This allows you to shop for the best price and the best customer service, instead of being obligated to use the only local electric or natural gas company available. Oil providers can calculate the amount of oil your system uses based on the outside temperatures so they know when to automatically refill your tank. You can have it delivered on a schedule or as needed as well.
The cost of heating with oil is comparable to other sources of heat because oil heat burns warmer than any other heating fuel or energy source. Depending on where you live and the cost of oil in your area, it can be less expensive than heating with natural gas or electricity. When it comes to saving money, one must consider the durability of oil heating systems. It is true that oil heating systems can last up to 30 years, and sometimes more. Considering the life span of some oil heating furnaces compared to natural gas furnaces, many consumers save on system replacements over-time.
Oil heat makes a home comfortably warm faster than other heat sources. The speed at which oil heat warms a home is one of the reasons for its high efficiency rating. Because it warms faster, less oil is used, saving you money. And the versatility of heating oil provides comfort in other ways. Oil hot water heaters can provide an unending source of hot water, unlike some hot water heaters that can run out and take time to heat more water. It can also be used to heat hot tubs and pools.
With all the advantages of heating with oil, and the convenience of oil delivery, it is a wise choice for home heat. And as long as the world is using gasoline, there will be heating oil available.
https://www.berico.com/wp-content/uploads/2023/05/berico-logo-2023-2.png
0
0
berico_admin
https://www.berico.com/wp-content/uploads/2023/05/berico-logo-2023-2.png
berico_admin
2013-11-30 05:36:14
2023-01-24 06:08:50
Heating with Oil in Greensboro, Burlington, Eden and surrounding areas