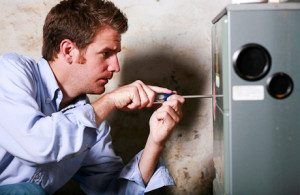 When was the last time you had your furnace serviced? If it takes you a moment to remember, it has probably been too long. Your furnace, like any other working machine, needs occasional maintenance to operate properly and efficiently. There are many reasons why maintenance is important for your furnace in Greensboro.
Avoid Unexpected Repairs
No one wants to wake up or come home to a cold house in the middle of the winter. When the temperatures are freezing, you need your furnace repaired as soon as possible. That could mean you're calling for service in the middle of the night or on a weekend, which typically results in higher fees for after hours or emergency service.
Would you rather avoid this uncomfortable, expensive situation? Regular furnace maintenance can reduce your risk of furnace failure at an inopportune time. Furnace maintenance includes inspection, cleaning, and repair of your system to locate any potential problems and repair them before they lead to a breakdown.
Increase Energy Efficiency
Would you like a warmer home with less energy usage? Regular furnace maintenance ensures that your system is operating efficiently and using the least amount of energy possible. You may have heard that brands and models of furnaces have efficiency ratings. Whether it's a York furnace, a Lennox, Carrier, Goodman or another reputable brand, it can only achieve it's advertised efficiency if it is regularly serviced and kept in good condition.
Experience a Higher Level of Comfort
When your furnace is operating efficiently, you can feel the difference. Your home will be noticeably warmer with an even heat across all of the rooms in your home. The warmth will last longer, meaning your furnace will run less often to keep the desired temperature. If you have an oil or propane furnace, keeping it well maintained can help you get more heat out of your fuel and allow you to achieve a higher level of comfort.
Safety
A furnace that is in need of maintenance can be dangerous. A dirty furnace with a build up of soot and dust can be a fire hazard. It can also release carbon monoxide into your home, which is a major health concern. It is important to have a carbon monoxide detector in your home. If it goes off, your furnace is most likely the culprit.
Save Money
Regular furnace maintenance can help you save money. A finely turned furnace will operate more efficiently and use less fuel. It will run less often to achieve the desired temperature. And a well maintained furnace is less likely to break down unexpectedly, which will save you from paying after hours or emergency fees. A furnace that is regularly tuned up will also last longer, allowing you to get the most years possible from your system before needing to replace it. When problems are addressed as soon as they are discovered, which is more likely to happen with yearly maintenance, it prevents small problems from becoming bigger problems.
Save More Money with a Comfort and Protection Service Plan from Berico
You can increase your savings by signing up for a Comfort and Protection Service Plan from Berico. The plan includes the following:
Two tune-ups per year, one for your furnace and one for your air conditioning
20% off repairs
20% off diagnostic fees
20% off after hours fees
$50 bonus bucks
Priority service
These are just a few of the ways a maintenance plan can save you money. Berico provides maintenance for all makes and models, including York furnaces, Carrier, Goodman, Lennox, and other major brands.
Call (336) 273-8663 today to sign up for maintenance for your furnace in Greensboro or schedule service.
https://www.berico.com/wp-content/uploads/2023/05/berico-logo-2023-2.png
0
0
Team Berico
https://www.berico.com/wp-content/uploads/2023/05/berico-logo-2023-2.png
Team Berico
2021-09-12 17:19:50
2023-01-24 05:50:20
The Importance of Furnace Maintenance