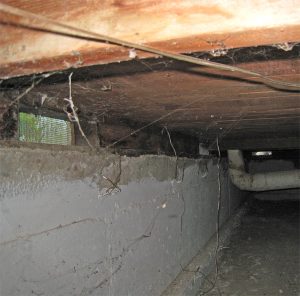 Houses are built on many different types of foundations. Whether crawl space, basement, slab, or another type, the foundation of your home affects the amount you pay to heat and cool it each month. No one type is better than another, but each needs to be handled differently when it comes to heating, cooling, and insulation. It's also important to consider your foundation when choosing a new system for AC replacement in Burlington, NC.
Extra Insulation in your Crawlspace Foundation Can Save You Money
Do your floorboards feel cold in the winter time? If you have forced air heating and a crawlspace foundation, you may find that your feet are always cold and your heating bill is high. Without proper insulation, your crawlspace could be letting in cold air during the winter and hot air during the summer. Your HVAC system then has to work harder to achieve the desired indoor temperature, using more energy and increasing wear and tear on your furnace and air conditioner. Sealing and insulating your crawlspace keeps the outside air where it belongs—outside.
Sealing your Basement Can Reduce Heating and Cooling Costs
Basements can be cold and damp. They can also be hot and stuffy, lacking ventilation. Properly sealing your basement can keep moisture and cold out, making it easier to keep it warm and cozy during the winter. Your furnace will require less gas, propane, or electricity which saves you money during the winter. Excess moisture and humidity in your basement can be an added challenge for your air conditioner during the summer months as well. Keeping basement humidity under control allows your air conditioning to cool the space more efficiently, also lowering your energy bill.
Slab Foundations Should Also be Insulated to Save Energy
In very warm climates, slab foundations are sometimes not insulated. But in climates where the winter months reach freezing temperatures, insulation is extremely beneficial. Both cold and warmth from the ground can impact your indoor temperature. Insulation keeps the air temperature in your home more even, making it easier to heat and cool consistently from room to room. Your HVAC system will require less energy to make your home comfortable, and the energy is what costs you money.
Less energy usage results in a lower energy bill. It's that simple.
Evaluate your Foundation Insulation Before AC Replacement in Burlington, NC
If you are thinking about replacing your air conditioning system or if it dies and leaves you with no choice, be sure to check your foundation and insulation before you choose a system. It's also important to get an accurate number of square feet that needs to be heated and cooled. If you recently finished your basement or attic or added on to your home, your new HVAC system may need to be larger to accommodate the additional space. Make sure your basement is sealed and your crawlspace or slab is insulated before you go through with AC replacement in Burlington, NC. Alamance Oil can perform an energy audit on your home and let you know if outside air is getting in due to insufficient insulation. Expert technicians can install a new HVAC system that is properly sized to heat and cool your home efficiently, saving you money each month. Call (336)226-9371 for a free home energy audit or AC replacement estimate.
https://www.berico.com/wp-content/uploads/2023/05/berico-logo-2023-2.png
0
0
Team Berico
https://www.berico.com/wp-content/uploads/2023/05/berico-logo-2023-2.png
Team Berico
2018-04-11 17:52:51
2023-01-24 05:58:49
Your Home's Foundation Impacts your Heating and Cooling Costs