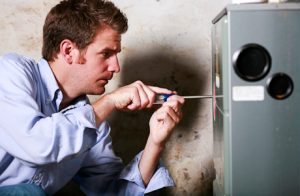 There's nothing worse on a cold winter day or night than a broken furnace. So many questions run through your head. Who do I call to fix it? How much will it cost? How long will it take? Do they operate in Greensboro, Eden, Burlington, and surrounding areas?
Most furnaces have safety features, but nothing is fail-proof. If you smell propane, gas, or heating oil in your home, call for help immediately. Do not turn on any lights or appliances. There are other risks involved with repairing your own furnace, such as fire/explosion and electrical shock. The safest recommendation: don't try this at home.
When it comes to deciding whom to call to repair your furnace, there are usually a lot of choices for heating and air repair companies. When choosing a good heating and air conditioning company there is a lot to consider. What HVAC warranties does the company offer? Is the company reputable in the community? Do they offer 24/7 furnace and AC repair services? Do they also supply the heating oil or propane you need to run your furnace? How are consumers reviewing their services? Will the company be around for a long time to help me throughout the life of your heating and cooling units? These variables are important, and should demonstrate that an initially low price may not always have the best value. It is important to consider all of these variables prior to deciding on a heating and cooling service company.
To avoid the need for furnace repair in Greensboro and to keep your furnace running at optimal efficiency, it is smart to have your furnace and air conditioning inspected yearly. The best time of year to have your furnace inspected is before heating season. As the temperatures are still moderate, less people will be having their furnaces serviced, which means quicker service. Some companies offer service plans to come to your home twice a year to inspect your heating and cooling systems, and many of these plans offer discounts on any repairs. Often your furnace can be cleaned to avoid larger, more expensive repairs later. Also, an annual service or service plan can help save customers up to 15% on their fuel or energy bills. Furthermore, many warranties on today's equipment require an annual service or tune-up to be performed. Wouldn't you rather keep your furnace in Greensboro running smoothly to avoid any unfortunate surprises? Your home could be cold for hours before you can get the furnace repaired even if you pay extra for an emergency service appointment. Don't let that happen to you by scheduling a tune-up or service plan annually.
Most furnaces and heating systems are designed to be low maintenance. You may never have a problem with your furnace at all. But if you do, it's important to know how to handle it. Rely on a reputable company for repair and maintenance of your furnace.
https://www.berico.com/wp-content/uploads/2021/05/berico-logo-new-1.png
0
0
berico_admin
https://www.berico.com/wp-content/uploads/2021/05/berico-logo-new-1.png
berico_admin
2013-11-22 05:35:01
2017-11-01 17:53:50
Furnace Repair and Maintenance in Greensboro, Burlington, Eden and surrounding areas